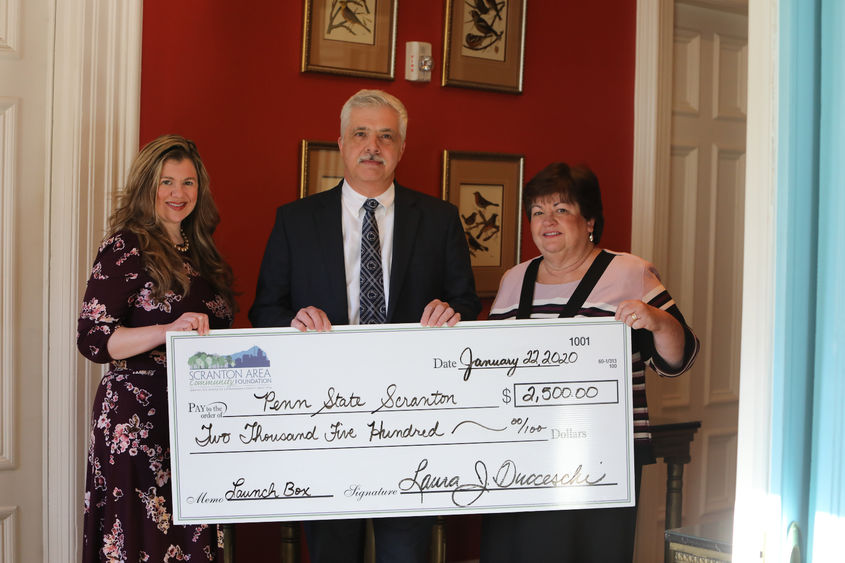 The Scranton LaunchBox, powered by Penn State Scranton, was supported this past year by a $2,500 award from the Scranton Area Community Foundation to help with rent costs for its entrepreneurial pre-incubator in South Scranton.
Created with $60,000 in start-up funding from Penn State University for the establishment of the facility and operational costs, the Scranton LaunchBox officially opened at 611 Cedar Avenue, in South Scranton, on Tuesday, Oct. 2, 2018. Penn State staff and faculty are responsible for the operations with student interns staffing the facility. Penn State Scranton is covering other expenses, but was in need of additional funding to cover another year's worth of rent expenses.
"We applied to the Scranton Area Community Foundation, which has been one of our original partners in this venture, and they were gracious enough to provide us with funding to help us with those costs," said John Drake, Director of Penn State Scranton's Center for Business Development and Community Outreach. "We are very grateful for their continued support."
The Scranton LaunchBox was planned in conjunction with United Neighborhood Centers (UNC), the Scranton Area Community Foundation, People's Security Bank, Women In Philanthropy, the Small Business Development Center at the University of Scranton, the Allan P. Kirby Center for Free Enterprise at Wilkes University, Ben Franklin Technology Partners, Family Business Alliance, the Greater Scranton Chamber of Commerce, S.C.O.R.E. Mentors of NEPA, TecBridge, and DX Dempsey.
Eventually, the Scranton LaunchBox will be permanently housed inside People's Security Bank, also on Cedar Avenue, once design work and renovations are complete.
It is part of the statewide Invent Penn State initiative, and provides no-cost, early-stage startup companies with the support and resources needed to build a sustainable business and viable plan for growth. Clients are not charged any fees for education or for the use of the facilities. It is open to community members and those affiliated with Penn State.
The Scranton LaunchBox powered by Penn State Scranton provides educational and technical support for aspiring entrepreneurs and facilitating networking opportunities for faculty, professionals and students who are passionate about building a vibrant community in downtown Scranton and the surrounding area.
The Scranton Area Community Foundation is on a mission to enhance the quality of life for all people in Northeastern Pennsylvania through the development of organized philanthropy. A public 501c3 community foundation, the Scranton Area Community Foundation serves as a steward, a grant maker, a charitable resource and a catalyst for change.
Invent Penn State is a Commonwealth-wide initiative to spur economic development, job creation and student career success. It blends entrepreneurial-focused academic programs, business startup training and incubation, funding for commercialization, and university/community/industry collaborations to facilitate the challenging process of turning research discoveries into valuable products and services that can benefit Pennsylvanians and humankind.