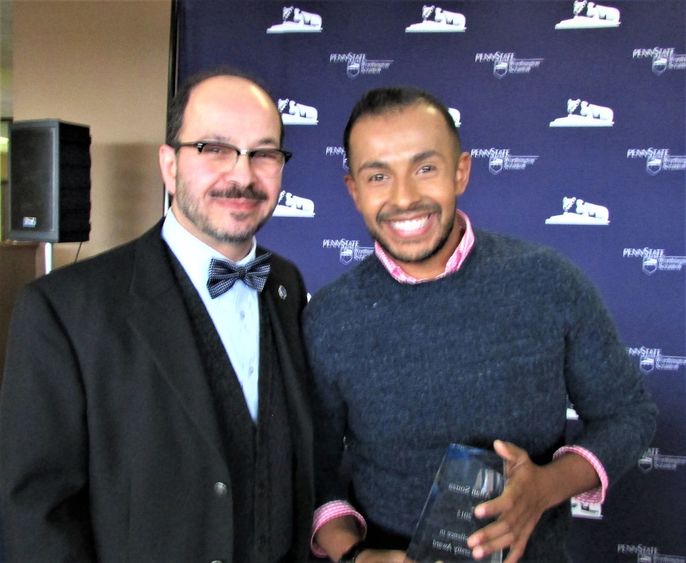 DUNMORE, Pa. – Penn State Scranton is observing National Hispanic Heritage Month with a schedule of special programs.
Beginning Tuesday, Sept. 15, the campus will host three Hispanic Heritage Month-themed virtual events culminating with an official observance of the month on Friday, Sept. 25.
"Hispanic heritage will be celebrated on campus via the virtual Hispanic Heritage Month celebration on Sept. 25, which is open to all students. During the program, Student Organization of Latinos (SOL) leaders will present on Hispanic Heritage Month, and also about their own personal backgrounds," said Dharti Ray, coordinator of diversity, equity and inclusion.
"Meanwhile, there are other events happening throughout the month, such as the Hispanic Heritage Month Kahoot Game Show, and we will be making posts on social media that highlight the Hispanic community."
National Hispanic Heritage Month's origins go back to September 1968, when Congress authorized President Lyndon B. Johnson to proclaim National Hispanic Heritage Week. In 1988, the observance was expanded to a month-long celebration of the history, culture and traditions of people who trace their roots to Spain, Mexico and the Spanish-speaking nations of Central America, South America and the Caribbean.
Sept. 15 was chosen as the beginning of the observance because it marks the anniversary of independence for five Latin American countries — Costa Rica, El Salvador, Guatemala, Honduras and Nicaragua. Meanwhile, Mexico and Chile celebrate their independence on Sept. 16 and Sept. 18, respectively.
The campus' observance begins Sept. 15 at noon with a Hispanic Heritage Month Kick Off Game Show on the online game-based learning platform Kahoot. Students can play the game on their own, or play together at https://psu.zoom.us/j/97432051887.
Then, at 12:15 p.m. on Wednesday, Sept. 23, Scranton will partner with other Penn State campuses to host a virtual performance by spoken word artist Carlos Andrés Gómez. Gomez's performance will include a mix of facilitated dialogue, storytelling, spoken word poetry and humor. A Zoom link will be emailed to attendees the week of the event.
The Sept. 25 Hispanic Heritage Month celebration will start at 2 p.m. on Zoom. Cosponsored by SOL and the campus' Admission office, the event is open to both current and prospective students. The featured speaker will be entrepreneur and campus alumnus Allan Souza, whose family emigrated to the United States from Brazil.
Souza said he's "super excited" to return to the campus community — virtually, at least — for the first time since graduating in 2017.
"I will be sharing a little bit of my journey while on campus and what I've been up to since then," Souza said. "Hispanic Heritage Month is special to me. I came to America as an immigrant from Brazil in pursuit of what we like to call 'The American Dream.' I hope that I can inspire others that the road to happiness and freedom takes courage and faith."
To register for the Hispanic Heritage Month events, visit the campus' Engage page at https://psuscranton.campuslabs.com/engage/.
For more information on National Hispanic Heritage Month, visit https://hispanicheritagemonth.gov.