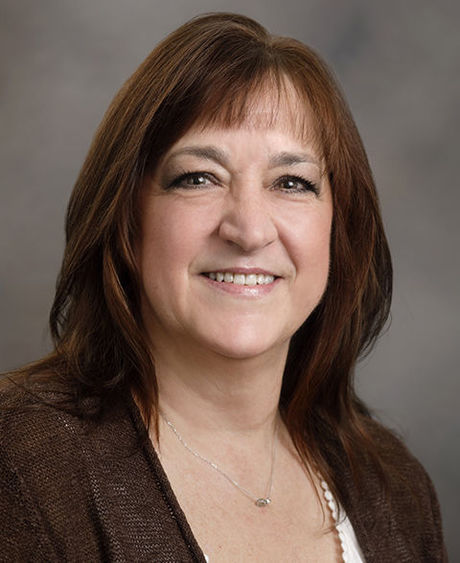 DUNMORE, Pa. – Penn State Scranton has a friendly new face in the campus bookstore.
Diane Hoyt-Green recently assumed her duties as the new bookstore manager, replacing Diane Slater, who retired at the end of June after serving many years in the role.
In addition to the Scranton campus, Hoyt-Green will continue to serve as the bookstore manager at Penn State Wilkes-Barre, where she has worked since 1999.
Hoyt-Green and longtime Scranton campus assistant bookstore manager Evelyn Miller are employed by national bookseller Barnes & Noble, which operates the University's bookstores.
A resident of Sweet Valley in Luzerne County, Hoyt-Green said she's very excited about getting to know more campus students, staff and faculty in the coming weeks.
In the days leading up to the start of the fall semester, she encountered a few masked campus personnel, including Chancellor Marwan Wafa, Ph.D.
"In some cases, I wasn't sure who was who because of the masks. But, I love a challenge," she said with a laugh. "So far, everyone I've met has been really great. I look forward to eventually meeting everyone on campus, and to servicing the campus as best we can. I want to get to know everyone, and I want people to know me."
The bookstore officially reopened Wednesday, Aug. 19, with operating hours Monday through Friday from 9 a.m. to 4 p.m.
Because of the public health guidelines put in place due to COVID-19, the bookstore has instituted several operational changes to provide a safe environment for customers.
Masks are required of all visitors, only six of whom will be allowed in the store at a time. In addition, hand sanitizer is available upon entry; social distancing signage and floor markings are in place; sneeze guards have been erected; and the textbook area can only be accessed by Hoyt-Green and Miller.
The store will be cleaned and sanitized regularly, and Hoyt-Green and Miller will both undergo regular coronavirus testing through Barnes & Noble.
Of course, students don't have to physically enter the store to purchase or rent their books. Hoyt-Green said she and Miller have been taking numerous online orders.
"Students like taking advantage of the free shipping," Hoyt-Green said. "We're trying to give them the best deal possible deal, whether it's a purchase or a rental. And I like to work with each student separately so that they get the best deal. I just like to treat everyone individually. Customer service is very important to me."
Hoyt-Green will be floating back and forth between the Scranton and Wilkes-Barre campuses, depending on specific needs. So far, she said, the transition has been relatively seamless.
"The bookstores basically function the same, but the volume is different. This campus is a lot busier," Hoyt-Green said. "Evelyn has been a big help. And even though some things are different, I'm not going to go and just change everything. I try to accommodate."
What Hoyt-Green particularly likes about the job is that each day is different and "it's not the same old office every day."
The best part, though, is the clientele.
"I love working with and getting to know the students," Hoyt-Green said. "They keep you young, and you know more about what's going on in the world when you talk to them. You become like a parent, a confidant, to them. I've made a lot of friendships in this job."
For more information on the campus Bookstore, contact Hoyt-Green at 570-963-2705 or [email protected].