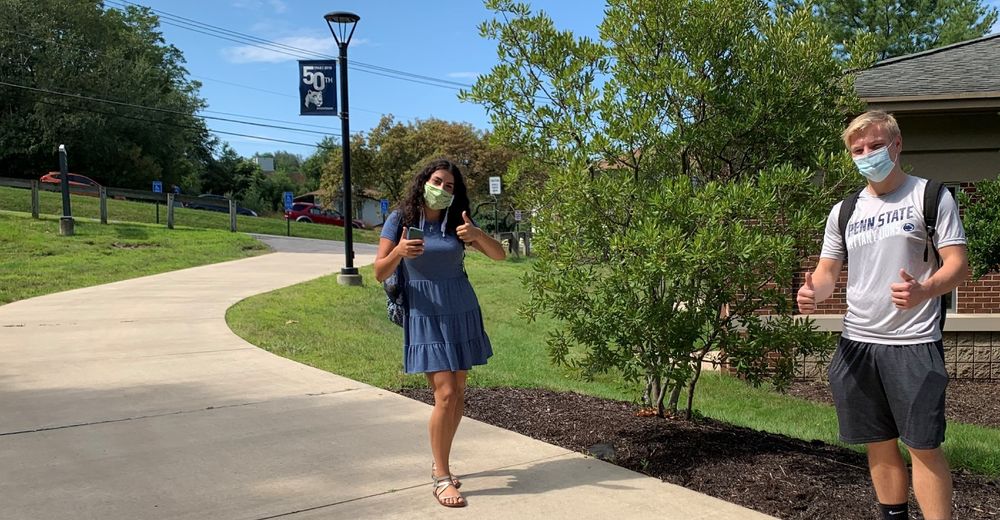 DUNMORE, Pa. – Penn State Scranton is enlisting members of the student body to help promote healthy behaviors as the campus reopens for the fall semester.
The campus is participating in the University's Public Health Ambassador Program, a peer health initiative designed by Student Affairs to provide students with guidance on healthy behaviors and social norms related to COVID-19. The program is part of Penn State's "Mask Up or Pack Up" campaign.
At Scranton, the initiative is being administered by the student services and engagement office, with campus Counselor Katherine Stefanelli overseeing the student ambassadors.
"I am honored to supervise the heath ambassadors in this campaign," Stefanelli said. "Our collective mission is to assist the entire campus community by providing PPE and education about the spread and prevention of COVID 19."
"We are hiring students that we know can be advocates for the health and safety procedures and protocols that are on campus."

-- Director of Student Services and Engagement Brad Kovaleski
"We want to ensure the students consistently hear this message, and who better than from their peers. They will help to ensure the information is out there and also cover more ground than the staff could do without them. Additionally, the program offers on-campus employment opportunities for our students when the position they may have typically had is not happening this year."
All told, 12 campus students have been hired to serve as health ambassadors. They underwent training for the paid positions and will be working five to 10 hours per week, Stefanelli said.
Every day, the health ambassadors will take turns doing shifts in the campus' two "Zen Huts" (formally the smoking huts). There, they will be handing out safety kits that include masks, sanitizer and educational information, and engaging in dialogue with their peers regarding expectations surrounding the University's health and safety guidelines.
In addition, the ambassadors will be tasked with placing educational signage around campus to remind students, faculty and staff alike to wear their masks, wash their hands and maintain proper social distance. And, they'll also help put together mailed packages for students taking all remote courses.
"It is paramount that we have students serving as role models at this critical time," Stefanelli said. "We know that the University is stressing personal responsibility and our health ambassadors are here to help guide and educate students in doing their part putting in their best personal effort."
Student Health Ambassadors Megan Lucey and Dhruvi Patel said they're honored to be selected for this crucial campus role.
"I'm really looking forward to telling my peers about the importance of being safe and keeping people around them safe," Patel said. "We will get through this together and I'm proud to be a part of something great."
"I think it is important for everyone to remember that even though things have been reopening, the pandemic is still very real and social distancing precautions still need to be taken," Lucey said. "I'm glad to have the opportunity to help keep fellow students safe during these trying times. I hope that the return to campus for this semester can be safe and enjoyable for everyone, and I'm happy to be a part of this."
Without question, Kovaleski said, the program is "an amazing way to ensure our students are a part of the communication process for our return-to-campus work."
"I'm so proud of our students and everything they do to make our community stronger and more welcoming," he said.
For more information about the Public Health Ambassador Program, visit studentaffairs.psu.edu/return/ambassador.