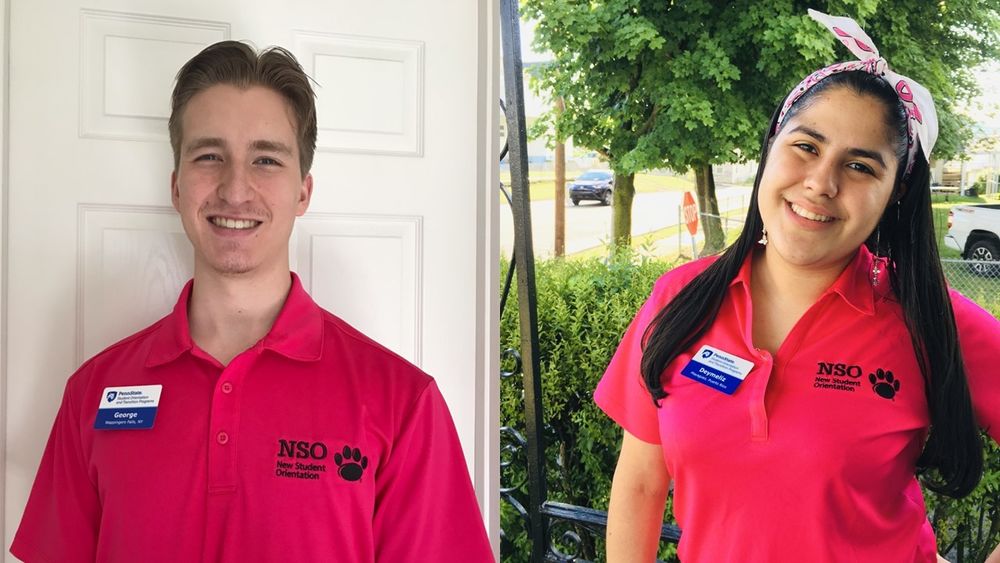 DUNMORE, Pa. — For generations, New Student Orientation, or NSO, as it is now commonly referred to, has served as one of the first rites of passage in the life of a Penn Stater.
Despite the continuing uncertainties and restrictions brought by the COVID-19 pandemic, this year's incoming class was able to experience NSO virtually, thanks in large part to a dedicated group of student leaders that included six from Penn State Scranton.
This summer, 55 rising sophomores and juniors from across the University were selected to be virtual orientation leaders, among them Scranton students Tabitha Boyd, Dominic Corma, Deymeliz Desarden-Ruperto, Joseph Krishanda, Marisa Milton and George Stojakovic.
Beginning in early June and continuing until mid-August, the orientation sessions are giving the University's 16,000 incoming freshmen the chance to receive a proper introduction to life at Penn State. It's up to the orientation leaders to welcome them into the fold, with the added challenge now of doing it in a completely digital environment.
During 90-minute Zoom sessions, the orientation leaders take new students through the ins and outs of college life while striving to create a warm, inviting atmosphere. Afterwards, they continue to serve as a resource for students, from making time to answer questions to planning and hosting virtual trivia games, speed meetings, pet shows and other fun activities where students can make connections and forge new friendships.
The Scranton students had been selected to serve at in-person NSO sessions on campus this summer. When all University life went virtual, campus Assistant Director of Student Services and Engagement Matt Nied informed them that they could apply for the paid virtual orientation leader positions.
"Matt thought I would be a good fit for the job, so I decided to apply," Boyd said. "The application process was similar to our orientation leader application, but had other requirements that you had to fit in order to get the job, such as the time commitment. I was pleased to find out I was selected."
"When I learned that I was one of the orientation leaders selected, I was honored," Stojakovic added. "It is exciting to be one of the few representing my campus in this program, and introducing the incoming freshmen alongside my fellow team members is a great pleasure and learning experience as well."
Already a peer mentor and member of the Honors Program and Engineering Club, Stojakovic saw the orientation leader role as another way for him to continue building his communication and leadership skills.
The experience has lived up to expectations, said Stojakovic, noting the virtual sessions have allowed him to connect with a diverse cross section of students from across the commonwealth, the country and the world. Among other duties, he has held small group sessions, overseen social activities and facilitated office hours and virtual registration labs.
"These are just some examples of shifts held in order to build those new networks and connections between the students and Orientation Leaders alike. We have worked hard to ensure these opportunities are available and that new students take advantage of them," Stojakovic said. "I am looking forward to developing even more connections with students and providing them with the most unique experience possible in their orientation journey. Overall, I feel this will help vastly in terms of my planned fall on-campus jobs/leadership roles at Penn State Scranton to support new students with their goals."
Boyd's orientation duties have included Q&A sessions for students and parents, trivia and workout sessions, and a virtual coffee break.
"These events have been fun and I have learned a lot," Boyd said. "I think it is an adjustment when getting to know students through a screen rather than in person, but it is going way better than I thought when first coming into this role. I think it is important to make connections through the Zoom calls with students. I also think that sharing my experiences at Penn State has led me to realize how many opportunities it has provided me with in just the two years I have been here so far."
Desarden-Ruperto was extremely excited by the opportunity to help students in the same way that campus NSO leaders had assisted her as a freshman. She's had a wonderful time creating events and sharing her unique perspective with students.
"It's been nice getting to know people from different backgrounds and hearing their stories. I am also looking forward to getting to know more about University Park and the other Commonwealth Campuses," she said. "At first, it was difficult to get used to Zoom, but thanks to the training provided by Student Orientation and Transition Programs (SOTP), this experience has been rewarding."
As an out-of-state student, Milton wouldn't have been able to participate in the on-campus NSO sessions. So, the virtual orientation opportunity came as a happy surprise.
Milton has particularly enjoyed providing students with critical information, helping them make connections and alleviating "the same fears and uncertainties new students have in common."
"The virtual part of it has not been hard personally, I guess because I was born into the digital age, but our leaders made sure we were comfortable using Zoom before we began meeting students," Milton said. "The experiences thus far have been worthwhile because of the new faces you meet. They look up to you and you become their first Penn State friend in some cases."
Perhaps more than anything, Milton has relished the chance to forge close connections with students who, like her, come from multicultural and underrepresented backgrounds.
"If I can become a familiar face to those who seek it, I will be very happy," Milton said." This experience has been meaningful and gratifying to me because I believe I was put in this position to be of aid to transitioning students and underrepresented students especially."
The experience has been just as gratifying for Desarden-Ruperto.
"To the point that I would love to do this again next year if I have the opportunity," she said. "I have gotten to know a lot of wonderful people."