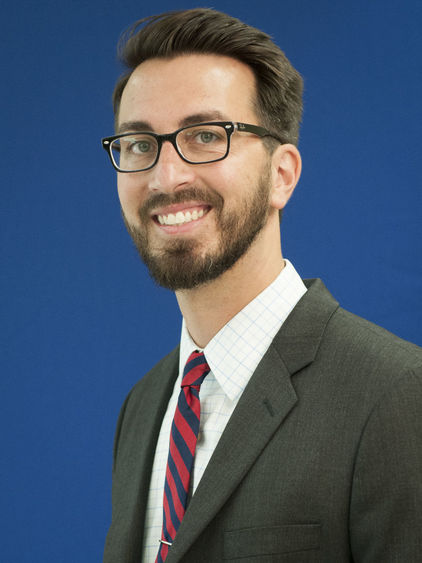 DUNMORE, Pa. – Penn State Scranton Director of Student Services and Engagement Brad Kovaleski has been a major champion and facilitator of the campus' ongoing efforts to be a more welcoming and inclusive place for all students.
Now, his commitment to those ideals is being further utilized at the University level.
Kovaleski was recently among a select group of Penn State faculty, administrators, staff and students from across the commonwealth chosen to take part in the Student Code of Conduct Task Force convened by University President Eric Barron.
The task force was implemented following Barron's June address given in the wake of the nationwide protests spurred by the killing of George Floyd by a Minneapolis police officer.
In his remarks to the Penn State community, Barron made a commitment to address both immediate and longstanding issues of racism, bias and intolerance, and prioritized several initiatives, among them a full review of the Student Code of Conduct with significant participation by student leaders.
"We will seek every opportunity for improvement as we work to ensure that our community has a full understanding of its purpose and provisions, including the role of restorative justice," Barron said in his remarks, which also included a commitment to mandatory bias training for employees, required racism and bias coursework for students, a sustained effort to increase the hiring and retention of faculty from underrepresented groups, and the establishment of the Select Penn State Presidential Commission on Racism, Bias and Community Safety.
The task force is being co-chaired by student Nyla Holland, president of Penn State Black Caucus, and Shoba Sivaprasad Wadhia, clinical professor of law and associate dean for diversity, equity and inclusion at Penn State Law.
Charged to produce its objectives by early September, the task force has been meeting every Wednesday, according to Kovaleski.
"I'm honored to be chosen and to be a part of the process," Kovaleski said. "We've held four meetings already, and they are very productive. They are an hour or so long each week and we have been doing some great groundwork."
Kovaleski believes he's been able to bring a lot of valuable input to the group, based on the strides the campus has made in recent years to foster a more welcoming environment for its diverse student population.
"I think we've done some great work on our campus and within the community," he said. "Personal and professional experience will be an asset to me in this process, but I am really looking forward to hearing from and following the lead of the students on the committee. They have been very impressive and doing a most excellent job. Our University should be very proud of the students, faculty and staff that comprise this group."
By its deadline, the task force intends to achieve the following goals:
Clarify and state the fundamental purposes of the Code of Conduct;
Determine the appropriate uses of the Code of Conduct in creating and sustaining a welcoming campus climate, particularly in response to behavior that is offensive or hateful;
Consider the impact of the First Amendment, privacy laws and other legal constraints on the University's use of the Code of Conduct to address offensive or hateful expression;
Identify strengths and weaknesses in the Code's provisions and related processes in terms of their ability to achieve the fundamental purposes and create and sustain a welcoming campus climate;
Recommend changes to the Code or related processes that are consistent with the University's mission and its obligations under the law, and would improve relevant outcomes important to the University community.
"Ultimately, the task force will provide a recommendation to the University for how to better manage incidents of racism, bias and intolerance," Kovaleski said. "I think we need to do all we can to ensure Penn State is creating a welcoming and inclusive environment for students."
For more information, visit the University's new Action Together: Advancing Diversity, Equity and Inclusion at Penn State website at actiontogether.psu.edu.