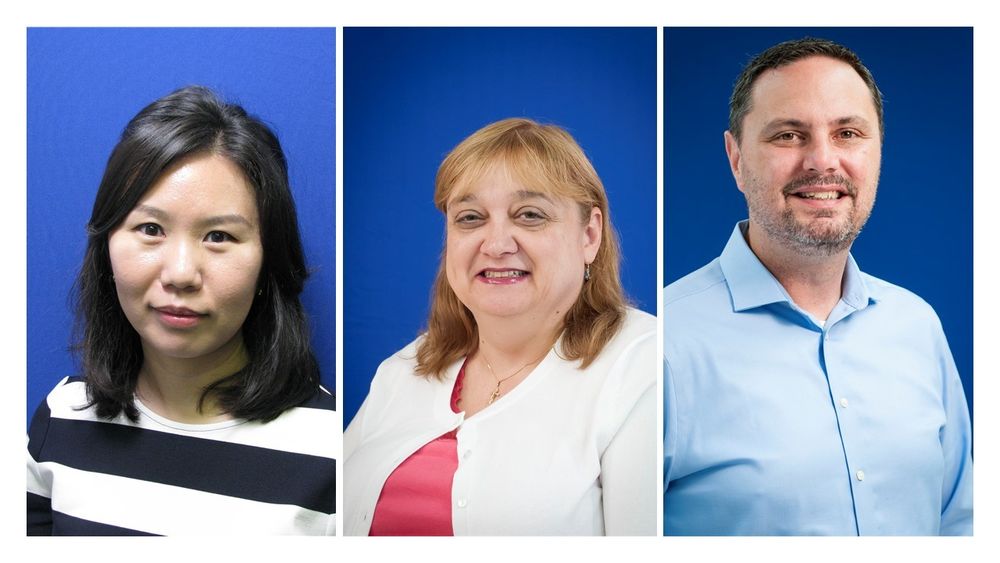 DUNMORE, Pa. – Three Penn State Scranton faculty members recently received some very good career news.
Assistant Professor of Chemistry Jiyoung Jung, and Assistant Professor of Human Development and Family Studies (HDFS) Raymond Petren, have been awarded tenure. Both professors will be promoted to the rank of associate professor, effective July 1.
Meanwhile, Associate Teaching Professor of HDFS and Program Coordinator Janet Melnick has been promoted to the rank of teaching professor of HDFS, effective July 1.
Penn State faculty are expected to demonstrate growth towards excellence in the areas of teaching, research and scholarship, and service to the University, society and the profession during the promotion and tenure processes. According to Chief Academic Officer H. Durell Johnson, all three faculty members firmly met those expectations.
"Dr. Jung and Dr. Petren being awarded tenure and promoted to associate professor and Dr. Melnick's being promoted to teaching professor are recognition of the high-quality contributions they have made to the campus, University, community and their respective disciplines, and is reflective of their excellence as Penn State faculty," Johnson said. "Each has been highly effective in their development of campus learning communities through outstanding teaching and undergraduate research, and has demonstrated exceptional professional achievement through research and service leadership."
Jiyoung Jung, associate professor of chemistry
Soon after joining the campus' science faculty in spring 2015, Jung sat down with Johnson to establish a career development plan that put her on the path to tenure.
"Dr. Johnson's detailed guidance was a tremendous help, so I was able to move forward stepwise," Jung said. "Although my primary role was providing a high-quality education to undergraduate students, I was also expected to be an active researcher and acquire stature in my field. In addition, I was expected to develop service roles at the campus, the University and in the profession."
To further develop her teaching and advising capabilities, Jung attended many pedagogical workshops and conferences where she gained extensive knowledge of effective teaching methods and practices. That, coupled with her hours of classroom experience, allowed her to improve her strategies and earn consistently high SRTE evaluations.
Over the past few years, Jung has developed a rigorous independent research agenda for her chemistry students while conducting her own traditional academic and applied research.
Jung's research primarily focuses on the synthesis of molecular probes that detect target compounds, such as heavy metal ions and other environmentally toxic ions. She has established external collaborations with Merck Research Laboratories and other institutes, allowing her proposed molecules to be used as a screening tool for copper ions in pharmaceutical process development.
Thanks to those collaborations, Jung has published her research in a number of highly ranked peer-reviewed journals and presented at national and international conferences.
"So, I was able to demonstrate both the quality of my research and my capability to lead research projects independently," Jung said. "I believe this research work benefits the University by enhancing the learning and applying environment for the Penn State undergraduate research program and draws more student interest in chemistry."
To further her professional development goals, Jung has gotten involved in several service and leadership positions, including serving as chair of the campus' Undergraduate Research Subcommittee and chemistry representative for the Science program's Integrated Safety Plan. Outside the campus, she has served as an editorial board member and a reviewer for peer-reviewed journals, and as a chair and member of national and international chemistry conferences.
Jung received her bachelor's degree in chemistry from Sungshin Women's University, master's degree in chemistry with specialization in organic/medicinal chemistry from Korea Institute of Science and Technology and Sungshin Women's University, and doctorate in chemistry with specialization in organic chemistry from the University of North Texas. In addition, she completed a post-doctorate research fellowship in chemistry with specialization in organic, inorganic and material chemistry at Indiana University.
Before arriving at Penn State Scranton, she was an assistant professor in organic chemistry at Slippery Rock University.
"It has been a very rewarding process to develop my professional career at Penn State," Jung said. "I learned a lot, and I am grateful to achieve tenure and honored to be a tenured faculty member at Penn State."
Janet Melnick, teaching professor of human development and family studies
Melnick's promotion brings her to the highest possible rank for faculty in the non-tenure teaching line. For her, it's the culmination of 20 years of dedication to Penn State Scranton.
"It feels wonderful and amazing after all of the hard work since starting at PSU Scranton in 2000 that I have achieved the highest rank," she said. "I still can't believe it. I am beyond thrilled, especially as currently there are not many faculty in the non-tenure-track positions that have reached this level. I am honored to have achieved this milestone in my career."
Like Jung and Petren, Melnick had to carry out her teaching, research and service responsibilities at an exemplary level to meet the criteria for promotion. She also had to complete an intensive dossier and have her classroom teaching submitted to two peer reviews.
From there, all of those steps had to be reviewed and approved by peers from the campus and the College of Health and Human Development. Then, the final recommendation was sent to Vice President for Commonwealth Campuses Madlyn Hanes for final approval.
"Teaching for a non-tenure track position comes first and you must be an experienced and effective teacher, but research and service are also paramount as well," Melnick said. "Once you are done teaching, you must look to continue to add to the field by conducting research. So, it is a continuous cycle where your research impacts your teaching and vice versa. There is also an expectation of service at the campus, college and University levels, as well as in the larger community. You must continually seek opportunities to serve."
As coordinator of the HDFS program, Melnick also spends a significant portion of her time advising students. She takes the role very seriously, and the University recognized those efforts last year when it named her the recipient of its 2019 Penn State Excellence in Advising Award.
"I love to advise students so they get the most out of their academic career and can become employed in the field after graduation," she said.
Prior to joining the Penn State Scranton faculty, Melnick served as the associate director of practicum for Marywood University's School of Social Work, director of rehabilitation services at Telespond Senior Services, protective service supervisor at the Lackawanna County Area Agency on Aging, and case manager at the ARC of Lackawanna County .
A state-licensed social worker since 1989, Melnick received her bachelor's degree in human services from the University of Scranton, her master's degree in social work from Marywood University and her doctorate in human services with an emphasis in social work from Marywood.
"I am so grateful to all of those folks who mentored me along the way and helped me throughout my career," Melnick said. "I didn't plan on an academic career and it came later in life for me than for traditional academics, but I think my clinical and administrative experience prior to receiving my Ph.D. helped me be the best teacher and researcher I can be. I love teaching at PSU Scranton. I love my students and the great colleagues I work with. I have been blessed."
Raymond Petren, associate professor of human development and family studies
Petren arrived at Penn State Scranton in the fall of 2014, just after successfully defending his doctoral dissertation at Florida State University.
From the very beginning, he had the sense that the campus would be an ideal environment to build a career and that the Scranton area would be a great place for he and wife Sarah to raise their son, Stanley.
"I could tell when I came that the people here cared about this community and the students. I felt like I was at home here," he said.
During the six-year tenure process, Petren's teaching, research and service were rigorously evaluated every two years.
"The feedback helps because it helps us make adjustments and address important growth points," he said. "In addition to meeting baseline performance expectations, the University expects us to demonstrate a capacity for continued professional growth and productivity that will extend well beyond the tenure process."
Petren's research focuses on parenting and coparenting (parents working together to raise children) across family structures, and throughout much of the tenure process his work centered on separated and divorced parents and stepfamilies. In particular, he's interested in how fathers and stepfathers negotiate relationships with mothers and children through family transitions.
His work also examines coparenting among foster parents, who in some ways are similar to stepfamilies in that both family types have to make things work without a shared history or established set of routines, he said.
Time is a precious commodity during any tenure process, and as a result, Petren said, he took a strategic approach to his projects, focusing on those he could complete in a timely manner and that allowed him to produce research "that I hoped would make a real impact."
Meanwhile, Petren has been highly involved in campus service. Among other current roles, he serves as Faculty Senate chair-elect, First Year Seminar program coordinator, LGBTQA Student Club faculty adviser, and Diversity Advisory Council co-chair.
As one would expect, the tenure process proved somewhat nerve-wracking, admitted Petren, who received his bachelor's degree in sociology and human development from Mercer University, master of family therapy from Mercer's School of Medicine, and doctorate in family relations from Florida State.
"Tenure-track positions result in sort of an all-or-nothing outcome in that I would have had to leave Penn State if I didn't make it. I felt a real sense of community here and my family has come to see northeastern Pennsylvania as home, so there was extra incentive to get it done," he said.
And he did, thanks to a lot of hard work and plenty of support from the campus administration, faculty and staff.
"It sort of takes a village to raise a tenure-track professor," Petren said. "This means a whole lot to me and my family. When I asked Sarah to support me in this journey, we knew there were going to be challenges, especially with a young child in tow. Reaching this point provides us with a sense of security and validates our journey and my family's support of me through the process. Northeastern Pennsylvania has become home for us, and I am so grateful for the opportunity to continue doing the work I love in the community that I have grown to care so much for at Penn State Scranton. Tenure and promotion also signal my value to Penn State, and I'm grateful for that."