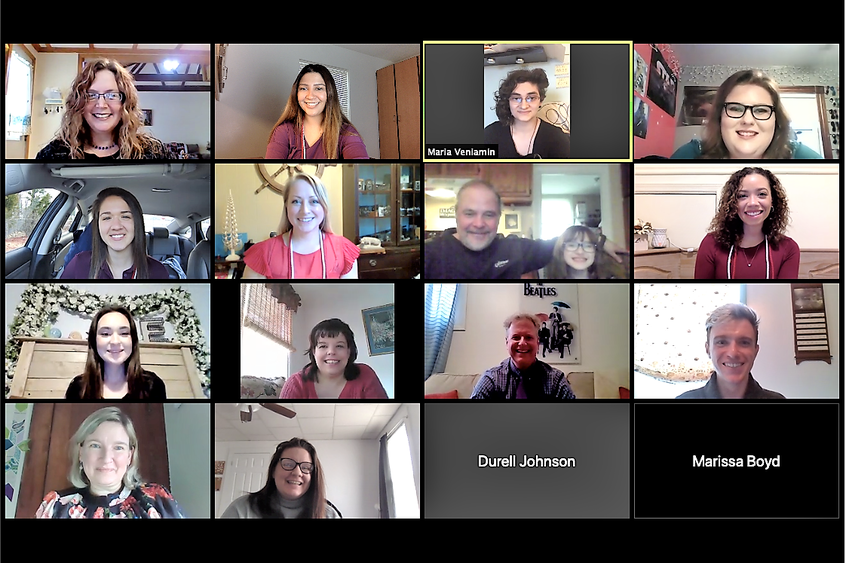 DUNMORE, Pa. — Graduating members of Penn State Scranton's Lambda Pi Eta Alpha Epsilon Pi chapter received their honor cords recently during a virtual celebration. Lambda Pi Eta is the official honor society of the National Communication Association and currently, the only academic honor society at Penn State Scranton.
It is an annual tradition for graduating members of the society to receive colored cords, which they wear at commencement, identifying them as Lamda Pi Eta members. The celebration typically takes place on campus, where family members can also attend to watch their loved ones receive their cords.
However, due to the current COVID-19 pandemic and the stay-at-home restrictions currently mandated across the state, members were unable to have a traditional celebration and receive their cords in person. Instead, a special online event was held so they could put on their cords and celebrate with other society members and campus faculty.
Joining the graduating members were the campus' Chief Academic Officer H.Durell Johnson, who addressed the honorees and congratulated them on their accomplishments and in qualifying for membership in Lambda Pi Eta.
"It is a real honor to have this honor society on our campus ... and it is a real testament to our students and faculty," he said, after complimenting them on putting together the virtual ceremony and celebration.
Despite the challenges and unique circumstances for this year's ceremony, watching those online during the ZOOM event, it was obvious the different format did not dampen the students' pride at their accomplishment, nor their enthusiasm for the significance of the evening.
Corporate communication faculty members also logged in to show their support and celebrate with the students: Kim Flanders, assistant teaching professor of corporate communication and program coordinator; Jim Hart, lecturer in communication arts and sciences/corporate communication internship coordinator; and Eva Tettenborn, associate professor of English.
Current Lambda Pi Eta members and last year's honorees/graduates also attended.
Receiving cords that evening, as announced by Penn State Scranton Lambda Pi Eta Vice President Emma Ross, were:
Dominique Jordan
Jordan transferred to Penn State Scranton her sophomore year of college. During her time at Penn State, she utilized her marketing skills and helped organized various food drives while keeping up with her grades. During her senior year she became the public relations officer for Lambda Pi Eta. Jordan's post-graduation plans are to pursue a career in editing.
Jordan Peters
Peters graduated in December of 2019. During her time at Penn State Scranton, she was a member of the woman's basketball and softball teams, as well as the first-ever woman's soccer team at the campus in 2016. Upon graduation, she will begin a full-time position as a sales operations specialist for AllOne Health in Wilkes-Barre.
Luci Polanco
During Polanco's time at Penn State, she has participated in the Big Idea competition, where she presented an idea based on holographic technology; participated in Diversity Circles; and was also part of the campus chorale. She was also accepted into the Eastern Communication Association to showcase her research based on "Innovation and Creativity within Conflict Management and Negotiation."
Polanco also volunteered within the community, with organizations such as One Hot Meal at the St. Stanislaus Cathedral, and worked with organizations such as the United Way and Griffin Pond Animal Shelter; and participated in an Alternative Spring Break trip to South Carolina to perform volunteer service work.
As for leadership positions, Polanco was the Student Government Association's Public Relations Officer and is currently working on a "My Penn State Story" documentary, which she will share with state legislators and senators. She also participated in the Linde Mentoring Program; served as secretary for the Corporate Communications Clubs; and was a member of the IST Club, S.O.L Club, Black Student Union, and Business Club.
Luci is pursing a job with a digital marketing agency in Harrisburg. She is also planning on attaining a master's degree in computer and information technology.
Erika Winklebleck
Winklebleck is a corporate communication major at Penn State Scranton, and an adult learner who came to the campus over three years ago. She was a member of the Business Club and completed her internship and performed work-study duties with Penn State Scranton's Strategic Communications Department.
Her passion for meeting people and photography led to covering many events throughout her internship. She said she is very proud to have completed her degree from Penn State, adding that her husband and daughter sacrificed many evenings to let her study, and they are equally as proud. She said she looks forward to growing her business, and possibly consulting for other businesses.
"You are all very worthy of this accomplishment and you're all very deserving of this honor," Flanders stated, "and despite the circumstances, this is still a very happy celebration."
"We're all very proud of you," Hart told the graduates. "It's been a great experience seeing you all learn and grow and get your degrees."
To qualify for Lambda Pi Eta membership, undergraduate students must have declared an interest in the field of communication while also having achieved a high level of academic excellence. Eligible members must have completed 60 semester hours in undergraduate credit courses with an overall GPA of 3.0 or higher.
Furthermore, members must have completed the equivalent of 12 semester hours in communication courses, maintaining at least a 3.25 GPA in those courses. Lastly, prospective members and inductees must be in the upper 35 percent of their graduating class and be enrolled as a full-time student in good standing.
Lambda Pi Eta was initiated by the students of the Department of Communication at the University of Arkansas and was then endorsed by the faculty and founder Stephen A. Smith in 1985. The Speech Communication Association established Lambda Pi Eta as an affiliate organization and as the official national communication honor society for undergraduates in 1994.
In February 1996, Lambda Pi Eta was inducted in the Association of College Honor Societies. There are currently 344 active chapters worldwide.
To learn more about the Corporate Communication degree program at Penn State Scranton, go to https://scranton.psu.edu/corporate-communication.