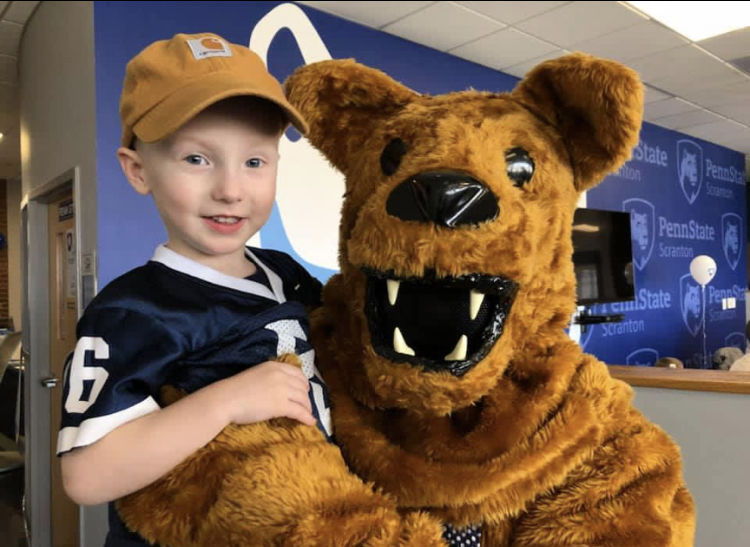 Editor's note: This event has been canceled. The cancellation is due to Penn State's move to remote instruction beginning March 16.
DUNMORE, Pa. -- After more than 20 years, the Nittany Lion Breakfast is still a beloved tradition of the Penn State Scranton Alumni Society, and organizers this year are working to make the annual event even more fun for kids.
The breakfast will take place Sunday, March 22 from 9 a.m. to noon at The View Café in Penn State Scranton's Study Learning Center, and will feature the traditional fare of pancakes, sausage, scrambled eggs, coffee and orange juice.
A family-friendly event, there will be many activities taking place for kids to enjoy during the breakfast, including enjoy games, crafts, face paintings and more.
David Lucas, Penn State Scranton Alumni Society president, said the event's special guest of honor, the Nittany Lion, brings people back year after year. "Our alumni family and friends look forward to snapping a photo with the Lion, sharing a meal together, seeing old friends, and the prize raffles are always a hit too."
"Our goal is to raise as much as we can, so the Alumni Society can continue to give back to our campus and its students," Lucas said.
Over the years the group has provided funding for student scholarships, supported the Student Hardship Fund and donated to campus projects including the campus' Nittany Lion Shrine, Business Building, Science Suite, David and Ann Hawk Student Success Center and Athletic Fields Renovation.
"We hope to see old and new friends at this year's event," Lucas said.
Tickets are $8 for adults and $5 for children under 12. Tickets will be available at the door the day of the event, but can also be purchased in advance by calling Angela Schuback in the campus' Development Office at 570-963-2536, or by emailing [email protected].