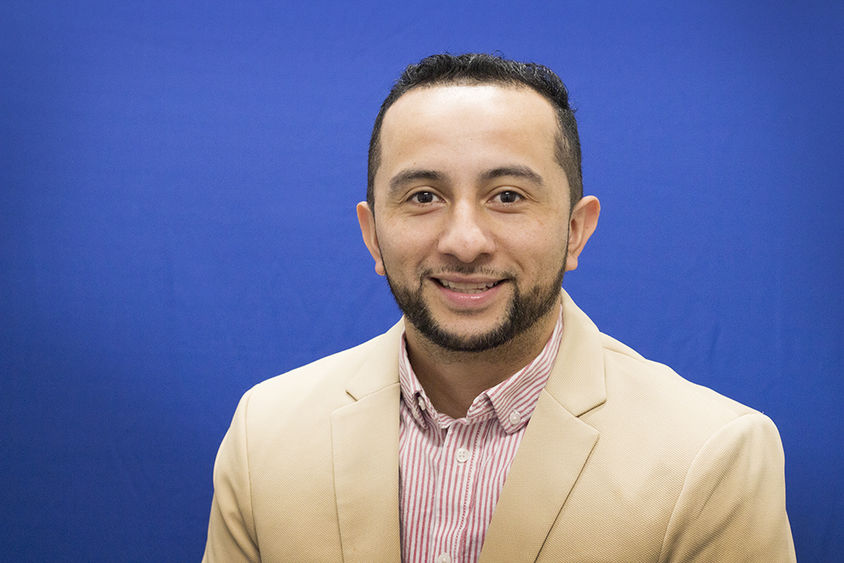 Penn State Scranton March Employee of the Month is Henry Matute Coello, coordinator for co-curricular programming.
Coello was nominated by members of the student body Maryam Meawad and Maria Veniamin.
"Henry truly cares for all of the students and makes sure that if he cannot help them, he will find someone who can," Meawad wrote in her nomination.
"I came here not knowing anyone and I just moved to Pennsylvania. He immediately made me feel welcome and introduced me to a lot of opportunities. He helped me make new friends and get involved on campus. He takes every student's problem and does everything in his power to help," she stated, adding: "He takes the time to think of a solution. It is one thing to do your job well and it is another to always want to do more to better the campus and help students feel welcome."
In her nomination, Veniamin said: "Henry helps me find opportunities on and off campus. He is so much fun to talk to and is always in good spirits. He is kind but serious about his work and makes looking after students his first priority. By giving me opportunities, I am able to foresee what I would like to do in my future. This is something truly important and helpful as I gain experience from every event I attend. This helps me to become a more well-rounded student."
Meawad added: "Henry cares for those who served our country. He goes out of his way to always make sure the Veterans Lounge has everything it needs. He is constantly doing events on campus for veterans to show how much this campus appreciates them. He appreciates diversity, which I feel is very essential when talking about a very welcoming campus community. He appreciates student's ideas and makes them a reality when he can which helps to make students feel accomplished and good about themselves."
"Henry leads by example as he is a hard worker. I see him going in and out of meetings and he is always on the phone," Veniamin said. "He is the advisor for SOL club and works with the club as well. The club is well established. Henry is engaging, exciting and energetic. I look forward to going to events he sets up. Henry is most deserving of this recognition."
The Employee of the Month recognition was initiated in 2016 by Wafa as a way of distinguishing staff members who "go above and beyond the call of duty" in serving Penn State Scranton.
Members of the Penn State Scranton community are encouraged to nominate a staff member that deserves to be recognized for "going above and beyond" online at https://scranton.psu.edu/form/employee-month-nomination-form.