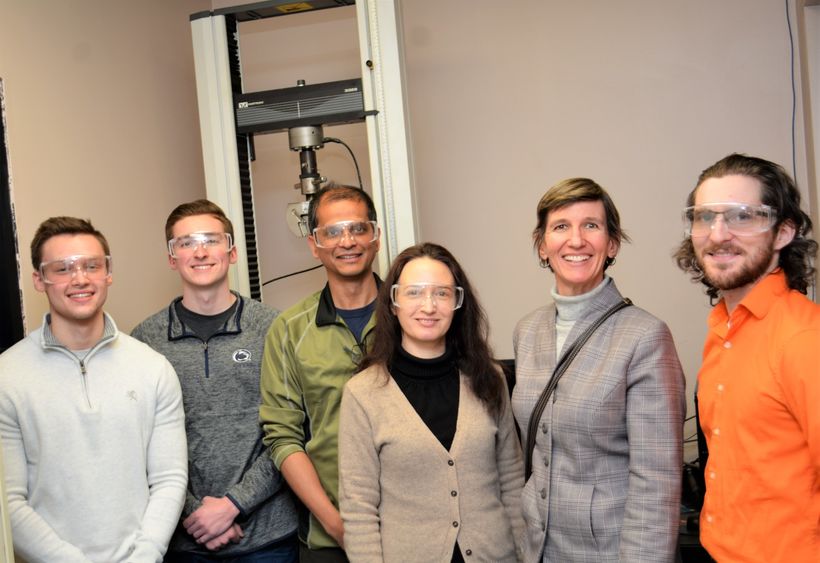 Is there a pronounced physical difference between wild and domesticated turkeys?
Penn State Scranton biology majors Matthew Moran and Jordan Symonies are trying to answer that question – with a bit of assistance from defense contractor Lockheed Martin.
As part of their research-oriented Biology 494 independent study course, Moran and Symonies, along with their instructors, Associate Professor of Biology Meg Hatch and Associate Professor of Physics Asif ud-Doula, recently visited the Lockheed Martin facility in Archbald to gain access to one of its highly advanced pieces of machinery.
There, Lockheed Martin personnel tested the group's turkey bone samples using the plant's Instron 3369, a specialized machine that can continuously exert force on a given material.
Following a few tweaks, the machine was able to measure the variables needed to calculate the bending strength (i.e. the maximum amount of stress the bone can withstand before breaking) and Young's Modulus (the stiffness of the bone) of the bones.
The trip, which was facilitated by the campus' Center for Business Development and Community Outreach, proved to be a "fantastic" experience, according to Hatch.
"The engineers and other personnel were so friendly and helpful, and had already started to think about the problem before our visit. I was impressed with their willingness to help out a couple of students on a project completely unrelated to their business," Hatch said. "This project is a great example of collaboration, not only between disciplines (physics and biology) but between campus and community."
"The Lockheed staff were very personable and interested in working with us," added Moran. "They are very welcoming to college students and even mentioned internships available. Also, they gave us a tour of the facility and taught us about the process of building materials for the military."
The project started in the fall when Symonies approached ud-Doula about potential research projects they could work on together. After some brainstorming, they eventually hit upon the idea of examining whether domestication can affect the physical characteristics of an animal.
"I found an article online that showed us how to measure one such characteristic -- bone strength and perhaps micro-structure in wing feathers," ud-Doula said.
From there, Moran joined the project. Then, when the group was unsure as to what type of bird they should study, they turned to Hatch, who studies songbirds in her research.
"They wanted to compare a wild to domestic animal and were thinking chickens, but since wild chickens (Red Jungle Fowl) are not found around here I suggested they compare turkeys since there are both wild and domestic turkeys in Pennsylvania," Hatch said.
After some discussion, the group decided to focus specifically on comparing the tensile strength of domestic and wild turkey leg bones. If a difference is found, it might suggest domestication has a direct effect on the physical properties of animals.
"If we do not find any differences, then perhaps the effects aren't that pronounced," ud-Doula said. "In either case, we would have some results."
As it happens, breaking turkey bones with precision is a rather complex process, so the group needed some outside assistance – specifically the Instron machine. With that, ud-Doula reached out to Penn State Scranton's Center for Business Development and Community Outreach Director John Drake to see if he could put them in touch with a local company who might be in possession of such a specialized piece of equipment.
As it turned out, Lockheed Martin had an Instron 3369 and was eager to help the group.
"It is our department's mission to link the community's needs and resources with that of the campus and University, whether that be through delivering educational programs like corporate training; continuing education and youth camps; project based-learning experiences for our students; helping entrepreneurs to start up businesses; or research," Drake said.
"This work with Lockheed is a perfect example of a collaborative effort between people, on and off campus, who are eager to learn and those that are eager to help with that process."
Upon arriving that day at Lockheed Martin, the group was put through a security check, then taken to a conference room where a catered lunch and five staff members were waiting for them.
Once the group further explained its objectives, the Lockheed Martin staff took them to the Instron 3369. However, a challenge arose when the machine couldn't hold the turkey bones in place while administering force.
Unphased, the Lockheed Martin engineers quickly drew up a schematic diagram for a custom grip, which was then produced in the machine shop.
"Once the grip was finished, we tested a bone in it, and it broke the bone just like we hoped it would," Symonies said. "So, we would be able to use this machine for our research."
Now that the proper technological components are in place for the project, the research group intends to bring fresh bone samples to Lockheed Martin on at least two more occasions. The hope is to produce enough data to yield some tangible results.
"The students appear to be enjoying the project quite a lot, and it is fun for me, too. I am hoping we will have some concrete results before our (campus' annual undergraduate) research fair, but you never know," said ud-Doula, noting the students might even have the opportunity to publish their results further down the road.
Whatever happens in the end, the students will learn "as much if not more from determining how to conduct their study as from the study itself," Hatch said.
Moran agreed with that assessment.
"This research project has taught us a lot about the process of scientific research," he said. "Before we started our project, it required us to conduct a lot of background research on turkeys and bones. Also, our professors have been very helpful in teaching us how to write grant proposals, summarize research articles, and prepare for meetings. Learning all of these skills will be very helpful and benefit us in our future careers."