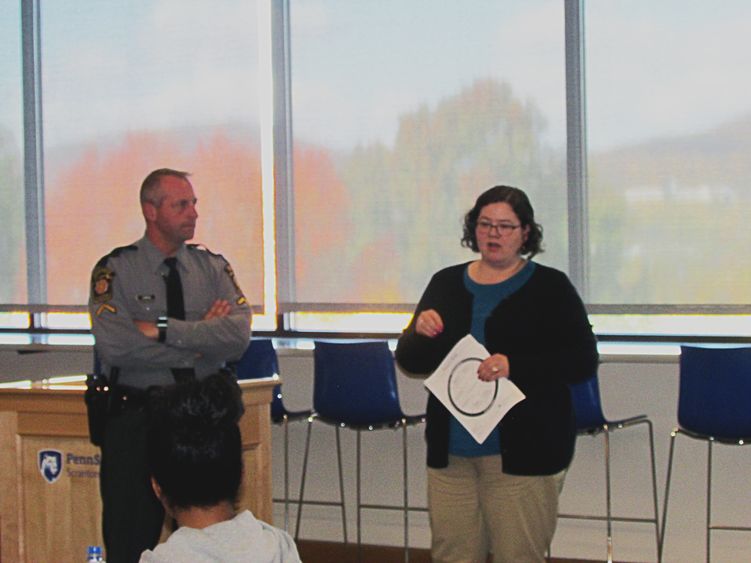 Penn State Scranton's Human Development and Family Studies (HDFS) Community Club continued its slate of informative fall semester programming with a presentation centered around the grim, yet all-too-relevant, topic of domestic violence.
The talk featured two guest speakers with expertise on the subject -- Trooper Bob Urban of the Pennsylvania State Police and Lori Iannetta of the Women's Resource Center (WRC) in Scranton.
Urban's anecdotes drew on his many years of responding to, and investigating, cases of domestic abuse throughout northeast Pennsylvania. As he put it, "I've seen and investigated everything."
Having grown up in a loving, somewhat "sheltered" environment in which his parents got along well, Urban said his initial on-the-job exposure to domestic violence was a bit of a shock to the system.
"When I'm on a call, I can't say, 'I know how you feel,' because I don't," he said. "Still, I can tell people that they have a shoulder to lean on and have someone they can talk to. Because that's what we're there for, to help. … I'm a people person, so I like to talk to them and try to help the situation in any way I can."
Domestic violence calls can be extremely volatile, potentially dangerous situations in which alcohol is often a contributing factor. Urban has been through a number of harrowing incidents, including one where he was shot at by an enraged abuse suspect.
"With domestics, the emotions are running so high," he said. "That's why when we respond to a call, we never go alone."
While men can be the victims of abuse, Urban said nearly all of the domestic violence cases he's worked on have been instances in which the woman was the victim. The laws have effectively been written to protect women, he said, so when troopers respond to a call and the woman has any sort of marks on her body, the man will be arrested on at least charges of simple assault.
What's particularly dispiriting, he said, is when he reports to a court date and the victim refuses to testify against the perpetrator.
"They'll say, 'Trooper, we worked things out,'" Urban said. "Then, two weeks later, we get a call and the woman is in the hospital on life support."
And that's why it's especially important for victims to be their own best protectors and extricate themselves from an abusive situation before tragedy strikes.
"You need to stand up for yourself and find a way to get out of that situation. In my experience with these things, people don't change – a leopard doesn't change its spots," said Urban, noting that when a protection-from-abuse order, or PFA, is filed, it's crucial for both parties to abide by it.
Meanwhile, Iannetta discussed the many confidential services provided by the WRC to victims of domestic and sexual violence, from a 24-hour hotline to crisis counseling to emergency housing to court advocacy.
"All of it is meant to help victims break the cycle of abuse. … Our role, as advocates, is to provide the victim with access to all the services they need," she said.
Iannetta noted that one in four women experience at least the threat of violence at some point in their lives. Male abuse victims, however, are harder to track, due to lingering stigmas, she lamented.
Because of the stress associated with their jobs, both Urban and Iannetta said it's important to separate work from their personal lives.
"When I leave my job every day, I leave it behind. You have to," Iannetta said.
Still, both said that the gratification they get out of their work supersedes the difficulties.
"I wanted to find a job where I could help people, and I get to do that every day," Iannetta said. "I love my job."