Family Business Alliance, a partner with Penn State Scranton, organized these events aimed at helping local businesses deal with pertinent issues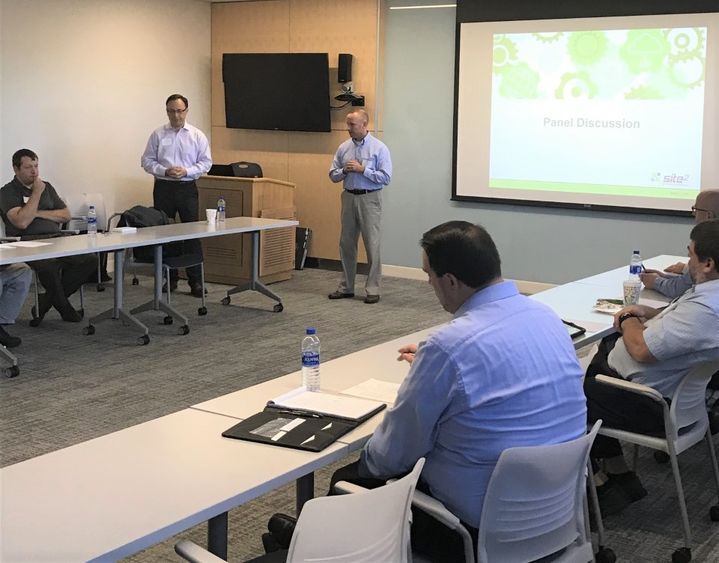 DUNMORE, Pa. — Penn State Scranton and Wilkes University's collaborative Family Business Alliance (FBA) continues to offer a wide range of unique and thought-provoking programming for local businesses, professionals, students and the community at large.
Recently, FBA hosted two events open to the campus communities and the public: a presentation on cybersecurity by Marc Gonzalez, John Carlin, and Penn State Scranton Lecturer in Information Sciences and Technology (IST) Fred Aebli; and a talk on emotional intelligence given by John E. Park, a former Penn State professor and current director at Baker Tilly Virchow Krause LLP.
Cybersecurity presentation
The cybersecurity presentation, which also included a tour of the campus' new IST Active Learning and Innovation Lab, attracted IT professionals from numerous local companies and organizations.
Gonzalez, the co-owner of local data management company Site2 and a member of Penn State Scranton's IST Advisory Board, said that as the world continues to experience a full-scale technological revolution, it's incumbent upon businesses to invest heavily in cybersecurity measures that protect both employees and customers.
However, he lamented, "we're not doing a good enough job of keeping up with the changes," said Gonzalez, noting that 91% of cyberattacks begin with email, while 92% of all malware is sent by email.
Fortunately, though, about 80% of cyberattacks can be prevented through what Gonzalez refers to as "cyber hygiene." Having properly secured email systems is crucial, he said, but so is providing training to employees in cybersecurity best practices so that they can properly identify things like phishing schemes.
About 34% of all company breaches are caused by insiders, according to Gonzalez. Sometimes, rival companies will recruit disgruntled employees to cause mayhem, but more often the breaches are caused by simple carelessness or neglect, he said.
Gonzalez also is leery of public Wi-Fi, which provides bad actors with a terrific opportunity to steal your data through use of relatively inexpensive devices like a "pineapple."
Carlin, the director of network and technology infrastructure at Wilkes University and a Penn State Scranton adjunct instructor, discussed the many ways in which USB ports and thumb drives can be used for cyber theft.
"You really have to have your guard up," said Aebli as he quizzed the attendees on the event's highlights.
Emotional intelligence presentation
At his presentation, Park, a former assistant professor of management development in Penn State's School of School of Hospitality Management who now consults for Baker Tilly, gave an interactive tutorial on the power of emotional intelligence, or EQ, as it is commonly referred to.
Daniel Goleman, the author of the bestselling book "Emotional Intelligence, Why It Can Matter More than IQ," defines EQ as "your ability to recognize and understand emotions in yourself and others, and your ability to use this awareness to manage your behavior and relationships." In recent years, the concept has developed plenty of traction in the business world as a guiding principle of effective leadership.
Emotional intelligence is a particularly resonant topic now, given unemployment rates are lower than they've been in years.
"People just aren't tolerating these bad behaviors from managers, and companies now realize they need to better invest in their management," Park said.
What differentiates those who possess EQ from those who don't? To illustrate, Park used the metaphor of dribbling a basketball. While plenty of kids know how to dribble, few do it with their heads up, which allows them to see the whole court, he said.
"We need to learn to play with our heads up," he said. "Great leaders play the game with their heads up. In turn, they lift their employees up."
Like most things, emotional intelligence is a skill that can be nurtured and developed over time and with a lot of practice, Park said. One can get better at it by putting a premium on things like self-awareness, empathy, listening, making eye contact, calling people by name, smiling, practicing small acts of kindness, demonstrating self-control and confidence, and even being able to tolerate occasional discomfort.
In addition, people who demonstrate EQ are resilient, and make it a point to seek out feedback from others in order to keep improving.
"It's not a once-in-a-while thing — you've got to be locked in and focused on it at all times. The essence of all this is paying attention, to yourself and everyone around you," Park said. "You have to embrace it. You have to say, 'I want to be a better person, a better leader.'"
On the horizon
The Family Business Alliance continues its fall programming Thursday, Nov. 7, with "The Texas Hold'em," a half-day program centered around "strategies to know when to hold, sell or execute other winning options" for family businesses.
The event will take place from 8 a.m. to noon in the Wilkes University Ballroom. For more information on the program, visit FBAlliance.org.