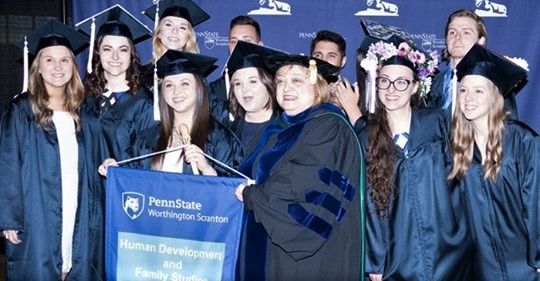 DUNMORE, Pa. — Given its status as one of the most popular four-year degree programs at Penn State Scranton, the Human Development and Family Studies (HDFS) program has built up an impressive alumni network throughout its two-decade-plus history.
A celebration seems in order, and this fall the program will host its very first HDFS Reunion Dinner.
The event will take place at 5:30 p.m. Thursday, Oct. 10, in the campus' Study Learning Center. Admission is $25 and includes food and drinks.
Now in its 22nd year on campus, the HDFS program boasts a large contingent of graduates who still stay in touch. So, the timing seemed right to toast the program's success, said Janet Melnick, HDFS associate teaching professor and program and field coordinator, who is hoping the reunion draws between 80 and 100 alumni.
"I keep in touch with many former students on Facebook and there has been a lot of excitement about getting together for the reunion," Melnick said.
"Alumni are the pride of our campus. Their accomplishments are truly a reflection of all of us who played a role in their education," Johnson added. "An event like this provides not only a great opportunity to celebrate our alumni's successes but to share their experiences with our students."
At the dinner, which will include remarks by Chancellor Marwan Wafa and Chief Academic Officer and Associate Professor of HDFS H. Durell Johnson, HDFS alumni will have the opportunity to catch up with each other and department faculty members.
In addition, they'll get to tour the newly renovated HDFS office suite on the first floor of the Dawson Building.
Meanwhile, current HDFS students also can attend the event, according to Melnick.
"Another aspect that I would like to see is to have our former students connect with our current students for some networking," Melnick said. "Our alumni can provide valuable advice to our current students. They are making a very positive impact on our local communities and beyond and it will be wonderful to hear all about it."
The HDFS program prepares students for careers in a number of different fields, including counseling, family and marriage therapy, social work, human services, sociology and behavioral health.
The program's instruction focuses on the human life span from birth to geriatrics, and interventions to promote healthy development and family function. It also stresses hands-on learning and internship opportunities that allow students to become acclimated to the workplace. And, there are also ample research opportunities provided by the program's faculty members.
Melnick said she expects a fun and relaxing evening that properly showcases a high-quality program that only continues to evolve.
"I can't wait," she said. "I always feel that I just get to know our students and then they graduate, so getting to see them again will be very special for me. I want to hear about not only career highlights but see how they are developing their lives with family and friends. I expect to see lots of pictures of their children."
"In our busy everyday lives, we rarely get the opportunity to sit back and access all that we have done," she continued. "I think this reunion will help us to do that in the best way possible."
Reservations for the reunion dinner are due by Monday, Sept. 30. Further details can be found at scranton.psu.edu/alumni-events-and-reunions, where attendees can either register online with a credit card or print out a form to be mailed with a check.
For additional information, contact campus Alumni Relations and Stewardship Officer Deborah Johnson at [email protected] or 570-963-2537, or Melnick at [email protected] or 570-963-2674.