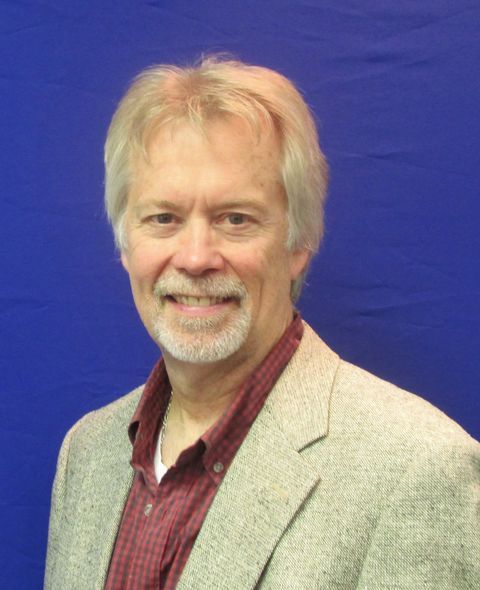 Associate Professor, Biology
Penn State Scranton
120 Ridge View Drive
Dunmore, PA 18512
Biography

Discipline Focus: Research in ecology of freshwater plankton, chrysophyte algae, mixotrophy, stomatocysts.

MEMBERSHIPS

The American Society of Limnology and Oceanography
British Society for Protist Biology / Protistology UK
Northeast Algal Society
Member of the Penn State Scranton Speakers' Bureau.
Research Interests

Dr. Holen studies lake ecology. He is interested in the ecology of mixotrophic algae and stomatocyst production in golden-brown (chrysophyte) algae.

Research interests:

Limnology
Algae
Protists
Mixotrophy
Stomatocysts
Chrysophytes

Publications

Hamsher S. E., Ellis K., Holen D., Sanders. R. W. (2020) Effects of light, dissolved nutrients on ingestion and growth of a newly identified mixotrophic alga Chrysoplepidomonas dendrolepidota (Chrysophyceae). Hydrobiol. 847: 2923 – 2932.
Holen, D.A. (2014) Chrysophyte stomatocyst production in laboratory culture and descriptions of seven cyst morphotypes. Phycol. 53 (5): 426-432.
Holen, D.A. (2010) Mixotrophy in two species of Ochromonas. Nova Hedwigia, Beiheft 136, 153-165.
Holen, D.A. (2000) The effects of heterotrophy on Chlorophyll a and photosynthesis in a mixotrophic chrysophyte. Nova Hedwigia. 122: 107-118.
Holen D.A. (2000) The relative abundance of mixotrophic and heterotrophic ciliates in an oligotrophic lake. Archiv Hydrobiol. 150: 1-15.
Holen, D.A. (1999) Effects of prey abundance and light intensity on the mixotrophic chrysophyte Poterioochromonas malhamensis from a mesotrophic Lake. Fresh. Biol. 42: 445-455.
Wehr, J.D., D.A. Holen, M.M. MacDonald and S.P. Lonegran. 1998. Effects of different organic carbon sources on a freshwater plankton community. Can. J. Fish. Aquat Sci. 55: 2150-2160.
Boxhorn, J.E., D.A. Holen and M.E. Boraas. 1998. Toxicity of the Chrysophyte flagellate Poterioochromonas malhamensis to the rotifer Brachionus angularis. Hydrobiol. 387/388: 283-287.
Holen, D.A. and M.E. Boraas. 1995. Mixotrophy in Chrysophytes. In: Chrysophyte Algae: Ecology, Physiology and Development. C. Sandgren, J Smol and Kristiansen, eds. Cambridge Univ. Press.
Holen, D.A. and M.E. Boraas. 1991. The feeding behavior of Spumella sp. as a function of particle size: implications for bacterial size in pelagic environments. Hydrobiol. 220: 73-88.
Gillott, M.A., D.A. Holen, J. Ekman, and M. Boraas. 1993. Predation induced E. coli filaments: Are they multicellular? In: Proc. 51st Annual meeting of the Microscopy Society of America. G.W. Bailey and C.L. Reider, eds. San Francisco Press.
Boraas, M.E., D.W. Bolgrien and D.A. Holen. 1991. Determination of eubacterial and cyanobacterial size and number in Lake Baikol using epifluorescence. Internationale Revue Gesmaten Hydrobiol. 76(4): 537-544.
Boraas, M.E., D.M. Seale, and D.A. Holen. 1991. Predatory behavior of Ochromonas analyzed with video microscopy. Arch. fur Hydrobiol. 123(4): 459-468.
Seale, D.M., M.E. Boraas, D.A. Holen and K. Nealson. 1990. Use of bioluminescent bacteria, Xenorhabdus luminescens, to measure predation by a freshwater microflagellate. FEMS Microbiology. 73: 31-40.

Education

B.S., Water Resource Management, University of Wisconsin - Stevens Point, 1976

M.S., Biological Sciences, University of Wisconsin-Milwaukee,
Thesis Title: The feeding behavior of Spumella sp. as a function of particle size: implications for bacterial size in pelagic systems. 1988

Ph.D., Biological Sciences, University of Wisconsin-Milwaukee,
Thesis Title:Physiological studies of mixotrophy in the algal flagellate Poterioochromonas malhamensis (Chrysophyte) using batch and continuous cultures. 1994
Papers and Presentations

PRESENTATIONS

2019 Stomatocyst morphotype and encystment rates in Ochromonas pinguis: A mixotrophic Chrysophyte. Northeast Ecology Conference, Edgedale, PA
2019 The distribution of Prorodon viridis (Ciliphora, Prostomatida), A ciliate with endosymbiotic Chlorella (Trebouxiophyceae, Chorellales), at the oxic/anoxic interface in a freshwater lake. Northeast Algal Society Symposium, Salem, MA.
2019 Stomatocyst morphotypes and Induction Rates in Ochromonas pinguis. Association for the sciences of limnology and oceanography, San Juan, Puerto Rico.
2018 Stomatocyst production and environmental inducement in Ochromonas pinguis, a mixotrophic Chrysophyte. Northeast Algal Society Symposium, University of New Haven, CT
2015 Chrysophyte stomatocyst production in laboratory culture and descriptions of seven cyst morphotypes. Northeast Algal Society, Syracuse, NY.
2013 Mixotrophy in Chrysolepidomonas dendrolepidota, a chrysophycean alga, Lacawac Ecology Conference, Lake Ariel.
2013 Phagotrophy in the scaled chrysophyte Chrysolepidomonas dendrolepidota, Northeast Algal Society, Mystic, Ct.
2012 The Stomatocysts of Ochromonas sp., (Chrysophyceae) A Small Mixotrophic Alga, Northeast Algal Society, Schoodic Point, Maine.
2011 Encystment by the mixotrophic flagellate Ochromonas pinguis (Chrysophyceae) in laboratory culture., Northeast Algal Society, Woods Hole, MA.
2010 The Stomatocyst of Ochromonas pinguis Conrad, 49th Northeast Algal Symposium, Roger Williams University, Bristol RI.
2010 Mixotrophy in Two Species of Ochromonas, UP Forestry Department, University Park.
2008 Mixotrophy in two species of Ochromonas, British Society for Protist Biology, Gregynog, Wales,

Course Schedule

Microbiology 106 - Elementary Microbiology

Microbiology 107 - Elementary Microbiology laboratory

Microbiology 201 – Introduction to Microbiology

Microbiology 202 – Introduction to Microbiology laboratory

Biology 230: Cells and Molecules

Biology240: Function and Development of Organisms

Biology 435: Ecology of Lakes and Streams

Biological Sciences 002: Evolution, Genetics and Ecology

Biological Sciences 001: Form and Function in Organisms

PSU 008: First Year Seminar

Biology 297 One-credit Seminar

Biology 494: Independent Study