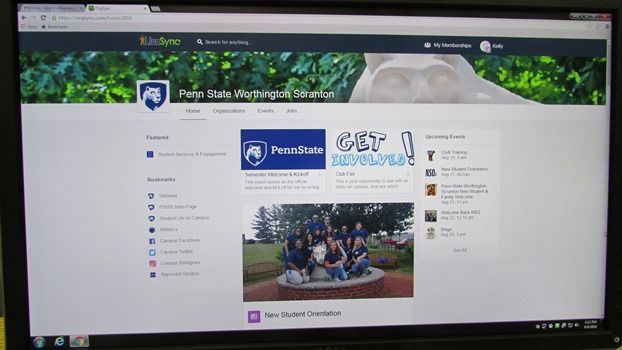 This year, students at Penn State Worthington Scranton can use technology to help them get more involved in extracurricular activities.
LionSync is an online program that allows students to see all the organizations available to join on campus, as well as every event that is happening and when. Students can sign up for events and organizations straight from their smart phones and requests can be made by students when they see something that they are interested in joining.
"It's a one-stop shop for student involvement," says Student Services Coordinator Julie Gilpatrick. "We will be challenging the students to participate in four events in their first two weeks on campus. When they do, their name will be placed in a raffle to win Penn State swag."
Club leaders will also be able to organize events and keep on top of attendance using LionSync and make news posts to promote their club. They will also have the convenience of having the campus' vendor list at their fingertips and club policies available for them at any time to reference.
Along with LionSync, the campus is also introducing a new ID card swiping service to the campus. LionSync will be compatible with the card swiping and as students attend events, their student ID cards can be swiped to track their attendance.
Gone are the days of paper! LionSync eliminates the need of forms for clubs because any surveys or forms can be created on LionSync and sent directly to the SGA office. This specific tailoring will make it easier and more flexible for students to participate in clubs.
LionSync provides a snapshot of all the details where meetings and events will take place and at the start of the fall semester, presentations will be offered for students to learn how to use LionSync. The goal is to have students become more involved on campus.
LionSync makes it easy for students to get involved; especially with the app. Students can look up events on campus at any time and agree to attend from their phones. It also helps students to know which events are tailored towards them by separating events by semester and class. Whether you are a freshman or a senior, you can discover the events that will work best for you.