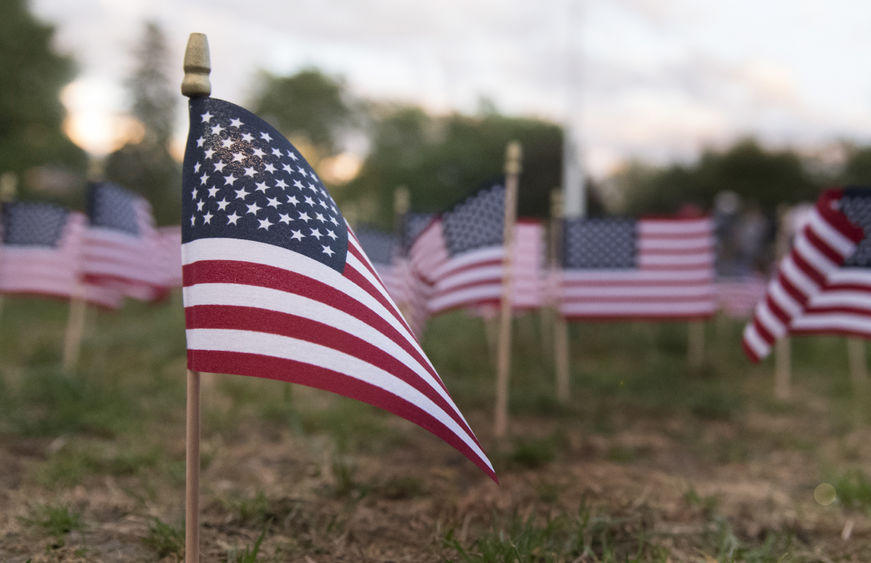 Events are being offered for Penn State campus and community members across the commonwealth in remembrance of those who lost their lives during the Sept. 11, 2001, terrorist attacks and their aftermath. 
University Park 
Flag placements — Thursday, Sept. 7, 6 p.m., Old Main Lawn. College Republicans at Penn State will lead the placement of 2,977 American flags on the Old Main lawn to honor each victim of the 9/11 attacks. Members of the Penn State and local community are invited to participate. The flags will be on display through 5 p.m. Tuesday, Sept. 12. 
Memorial service — Friday, Sept. 8, 5 p.m., Old Main Lawn. College Republicans at Penn State will host a memorial service. Penn State President Neeli Bendapudi, U.S. Rep. Glenn Thompson and State College Borough Mayor Ezra Nanes will provide keynote remarks. 
Penn State DuBois 
Ceremony and moment of silence — Monday, Sept. 11, 12:15 p.m. Open to the community and the campus.
Penn State Harrisburg
9/11 Memorial event — Friday, Sept. 8, 12-1 p.m., Vartan Plaza. This event is hosted by Penn State Harrisburg Young Americans for Freedom student club to honor those lost and injured during the terrorist attacks that took place on September 11, 2001.  Stop by to place American flags in remembrance. Flags will remain in Vartan Plaza until September 12, 5 p.m. This event is open to the public.
Penn State Scranton
9/11 Memoriam — Monday, Sept. 11, 8 a.m. to Noon, on the SLC Patio. Organized by the Penn State Scranton Student Government Association, the names of all 9/11 victims will be read at the exact time that the three plane crashes and tower collapses occurred that day. A bell will be rung and "Taps"will be played by Todd Adams, assistant professor of philosophy. There will also be a wall with a remembrance banner set up for faculty, staff and students to write the names of those who passed, which will remain in place for the entire day and then moved inside to the SLC's View Cafe.
Penn State Wilkes-Barre
9/11 Remembrance — Monday, Sept. 11, 12:15 p.m., at the Wilkes-Barre Lion Shrine. A ceremony will take place consisting of a singing performance of the national anthem, speeches from students and faculty, and a moment of silence. The ceremony is sponsored by the Veteran's Support Club, a student organization.
Pennsylvania College of Technology 
9/11 Day of Service — Monday, Sept. 11, noon to 4 p.m., Bush Campus Center, Patio. Faculty, staff and students are encouraged to join in a day of service, learning and remembrance to honor those lost on 9/11; to show appreciation for first responders; and to celebrate those who rose in service following the national tragedy. An important part of remembering and honoring the lives and communities impacted by 9/11 is to emphasize unity, healing and service. There will be activities in which to take part, as well as campus and community displays, giveaways and wellness resources. Read more here.