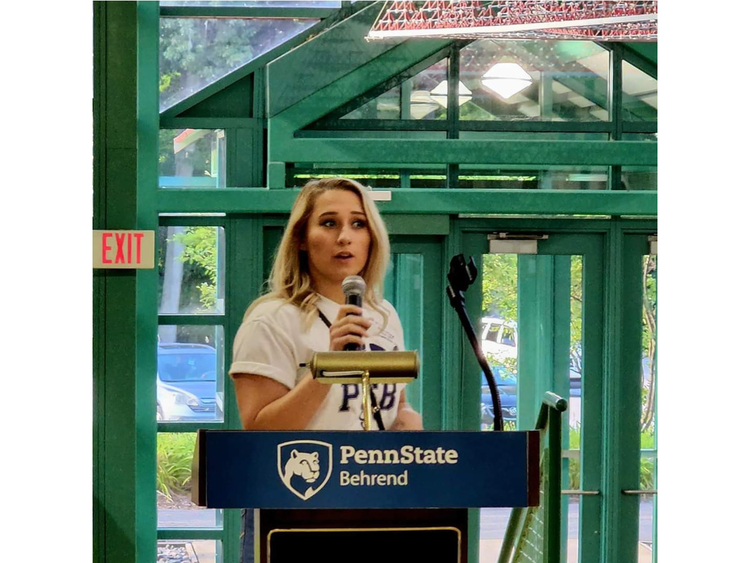 ERIE, Pa. — The COVID-19 pandemic undoubtedly pushed healthcare and the communities they serve to points that many of us thought to be unimaginable, upending our daily lives in many different ways. But with returning to normalcy in sight, the desire to come together in person to revitalize a much-needed nursing spirit was unyielding.
In rebuilding this sense of togetherness, The Ross and Carol Nese College of Nursing Alumni Society Board, in collaboration with their Alumni Society and SNAP (Student Nurses Association of PA) at Penn State Behrend, invited Penn State nursing alumni and students to connect over delightful conversation, interactive games, and Berkey Creamery ice cream at Roche Hall this past summer.
Led and jointly organized by assistant professor and alumni society board member Kim Raines, this opportunity offered nursing alumni the ability to share career experiences with current students, network with other alumni and get to know members of the alumni board.
Students who attended the event, many of whom were SNAP members, had yet to experience a normal college networking event and have struggled with the stresses of the COVID classroom and clinical settings. However, Raines emphasized that the event served as a great chance for students to understand how they can connect with alumni, and how those relationships can benefit them not only professionally, but personally as well.
"The juniors and seniors really recognized how much value there is in talking to alumni considering that they're close to entering the career field. We also had quite a bit of freshman attendance and they were so excited to have had so many alumni there to interact with," said Raines.
Raines and fellow faculty were fortunate to have access to many nursing alumni, with two 400-bed hospitals being within half an hour of the college. She, along with many others, including faculty and staff, helped prepare and garner attention through leveraging their strong connections with formers students. These connections are ones that they have built over many years of staying in touch with nursing students after graduation.
"My experience at the alumni ice cream social event was great! The event was really fun for alumni, students and staff. It was an amazing way for the nursing students to connect with those who have been in their shoes and for them to get motivation and advice. The event was reassurance and a reminder to them that they can do it. Personally, I would have loved the event as a student and it would have reminded me what I was working so hard for!" said Brittney Carr, Penn State Behrend Nursing graduate.
The first-time Behrend nursing alumni event had an unexpectedly strong turnout, with 13 alumni, eight faculty, and about 50 nursing students of all years attending. Set up at each table were two alumni and information about them that the students could scan and then use to contact after the event. Using a speed dating format, every few minutes the students moved from one table to the next, ensuring everyone had the opportunity to engage with all attendees.
"The event allowed us students to meet alumni of the same nursing program, sharing their experiences during their time on campus, along with where they are now in their career. The alumni proved that with all the opportunities in nursing, there is a place to be happy in healthcare. Healthcare really is a calling, and it makes a special person to be able to handle it," said Grayson Bona, a first-year nursing student at the Behrend campus. "I feel this is an event that has the opportunity to expand every year, maybe eventually engaging high school students that are interested in pursuing a career in healthcare."
With such a successful turnout and overwhelmingly positive responses from all who attended, Raines has her eyes set on future opportunities for her nursing students, having already reserved the McGarvey Commons Auditorium for next year. She also has hopes to establish a nursing-specific career fair, as well as looking to engage similarly interested alumni in helping students review and prep for boards.
"Recovering from the pandemic, nursing morale has been down and when we bring students to clinicals, it has been a bit of a struggle. I thought if we could invite some alumni to campus, it could revitalize spirits and give some encouragement," said Raines. "The feeling when the alumni started coming was indescribable. Not only did they come, but they came with exactly the right attitude. It's like they knew what the students needed and what to say to them. Like 'Yes, there are great things being done out here, and yes, nursing school is hard, but you are going to get through it.' It just brightened the room and really brought that hope to our nursing students at such a crucial moment in their career to get started in the right way."
'Yes, there are great things being done out here, and yes, nursing school is hard, but you are going to get through it.' It just brightened the room and really brought that hope to our nursing students at such a crucial moment in their career to get started in the right way.

—Kim Raines , Assistant Professor of Nursing