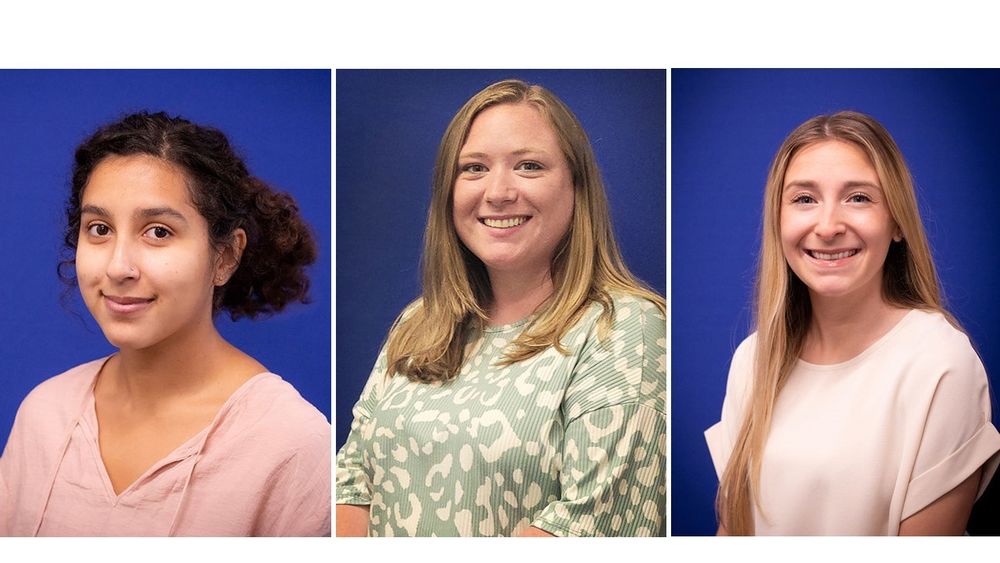 DUNMORE, Pa. — Penn State Scranton Chancellor Marwan Wafa has announced the addition of three new staff members at the campus. New hires are Julia Egan, coordinator of diversity, equity and inclusion; Caitlyn Hugendubler, administrative assistant in the admissions department; and Nicole Paolicelli, coordinator of student activities.
Julia Egan, coordinator of diversity, equity and inclusion
Egan recently graduated from the Eastman School of Music in Rochester, New York, with a Master of Arts in ethnomusicology. Her scholarly area of focus is North African guitar music of the Tamashek people. Egan has worked in diverse professional environments serving as a teaching assistant at Eastman in its Ngoma Dance Drumming, World Music, Mbira, and Music History courses. She also served as a research assistant to her adviser, Jennifer Kyker, on a Digital Humanities Scholarship-funded project called "Sekuru's Stories," which features the life of Zimbabwean master mbira player, Tute Chigamba. 
Earlier in her career, she served as an interim elementary music teacher at Brooklyn Heights Montessori School. As a guitarist herself, Egan has worked with organizations like Girls Rock! Rochester, teaching instrument instruction, band coaching, and hosting workshops.
In her advocacy work, she has been an active community organizer with Free the People Roc in Rochester, as well as within a university setting. She has coordinated meetings, drafted petitions, and organized an open sit-in to address racial profiling and public safety conduct on Eastman's campus. She is currently an active producer and performer in her music project, SomedaySoon Productions, which aims to promote awareness around intersectionality and mental health.  
In her role at Penn State Scranton, Egan promotes diversity, equity and inclusion on campus and in local communities by hosting trainings and workshops and facilitating the Diversity Circles program to make sure students are being included and getting what they need. She also works with the Penn State Coalition on Diversity, Equity and Inclusion to ensure that every member has a central focus on how to implement DEI in their campus community.
In addition, she also oversees cultural clubs at Penn State Scranton such as the Black Student Union and the Indian Student Association, helping to connect them to the local community and coordinate outreach to resources and vendors for their events.
"I am looking forward to how we can make our programming more accessible to our communities," Egan said. "I am also looking forward to seeing how we can expand our outreach to the whole NEPA community and to how we can gain opportunities for each of our students." 
Egan hails from Brooklyn, New York, as a Latina adoptee from Colombia, South America. She enjoys playing soccer, reading books, being active, and drinking herbal tea.
Caitlyn Hugendubler, admissions administrative assistant
Hugendubler holds a bachelor of science degree in recreation management from Lock Haven University, where she previously held the position of assistant to the dean. Her responsibilities in this role included managing the human resources, public relations, and project management activities of the Stephen Poorman College of Business, Information Systems, and Human Services. Prior to that, she also worked in admissions, alumni relations, and student activities.
At Penn State Scranton, she assists the admissions and financial aid staff in a number of ways — from routing campus calls and managing department workflow, to planning and coordinating admissions and financial aid projects and events, to assisting with various recruitment and retention needs. She also is the co-advisor for the Lion Ambassador club on campus.
"I am proud to be a part of this global institution," Hugendubler said, "but I am most excited to be a part of the wonderful community at Penn State Scranton."
She currently resides in Forty Fort with her husband, Ben, whom she recently married.
Nicole Paolicelli, coordinator of student activities
Paolicelli graduated from Penn State Scranton in 2019 with a bachelor's degree in business management and marketing, completing her degree program in three years, instead of the traditional four.
During her time as a student on campus, she was involved with the Campus Activities Board and the Student Government Association and held an internship with the Student Services and Engagement office.
She also interned at the United States Military Academy at West Point in the protocol office, where she assisted in planning the superintendent's events as well as organizing special guest visitor's itineraries and performing flag missions. She received the Commander's Award for Public Service for her efforts at West Point.
After graduation, Paolicelli worked as an executive team leader for specialty sales at Target in Dickson City. In that role, she was responsible for leading a team of more than 40 people throughout the style, beauty and electronics departments, which included making daily, weekly, monthly and yearly sales goals and teaching and training new initiatives the company offered. She also was her store's diversity, equity and inclusion captain and was a district trainer for incoming executives.
 In her new role at the campus, Paolicelli is responsible for creating and executing all on- and off-campus campus events; managing student workers; and posting on the department's social media pages. She also is the lead adviser for the Campus Activities Board and THON and helps to connect students with volunteer opportunities in the community.
"I realized throughout my experience as a student, I discovered a passion for higher education, specifically with student activities," Paolicelli said, "and I am grateful to have this opportunity to be back here!"  
During her free time, she enjoys spending time with her family and friends and attending Penn State football games. She also enjoys having quality time with her boyfriend, Nate, another Penn State Scranton alumnus, who is a nurse at Geisinger Community Medical Center, and their goldendoodle puppy, Bella.