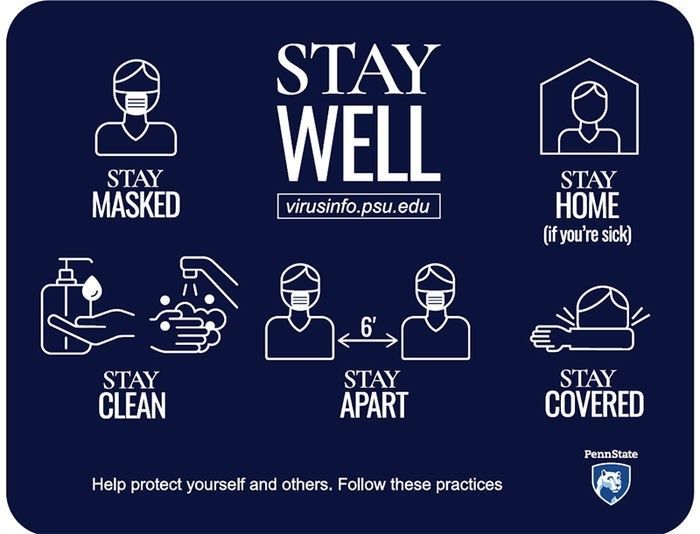 DUNMORE, Pa. – On Feb. 25 and 26, close to 700 Penn State Scranton students and faculty were tested for COVID-19, as per University requirements, and there were zero cases of the virus reported -- great news for the campus and the University.
While students, faculty, and staff were all required to complete an at-home COVID-19 test prior to the start of the spring semester and have a negative result in order to return to campus, the University had also decided to conduct in-person testing after the second week of in-person classes.
This second round of testing was for students and faculty that have classes on campus or who live within a 20-mile radius of the campus.
"Throughout the testing process across the University, there haven't been any issues in regard to participation in the testing," said campus Director of Student Services and Engagement Brad Kovaleski, who was one of the organizers of the most recent testing at Penn State Scranton."During all of our testing, the students, faculty and staff have all been compliant and participated as expected."
In addition to this second round of testing, random tests will continue to be administered throughout the rest of the semester to monitor both students and employees.
The universal re-testing of all students is a key component of our spring testing strategy and will allow us to assess how the virus is spreading on our campuses and isolate cases quickly, according to Kelly Wolgast, director of the University's COVID-19 Operations Control Center.
In addition to continued testing, Penn State is also continuing to require and enforce all CDC recommendations intended to slow the spread of the virus, including wearing masks in all public areas on campus, social distancing and frequent hand washing.
For the latest from Penn State about the coronavirus outbreak and campus-specific information visit: https://scranton.psu.edu/covid. The Penn State community is encouraged to take CDC-recommended health/safety precautions (https://bit.ly/Covid19-safety), contact their healthcare provider if they have questions or feel ill, and review information from state health authorities.