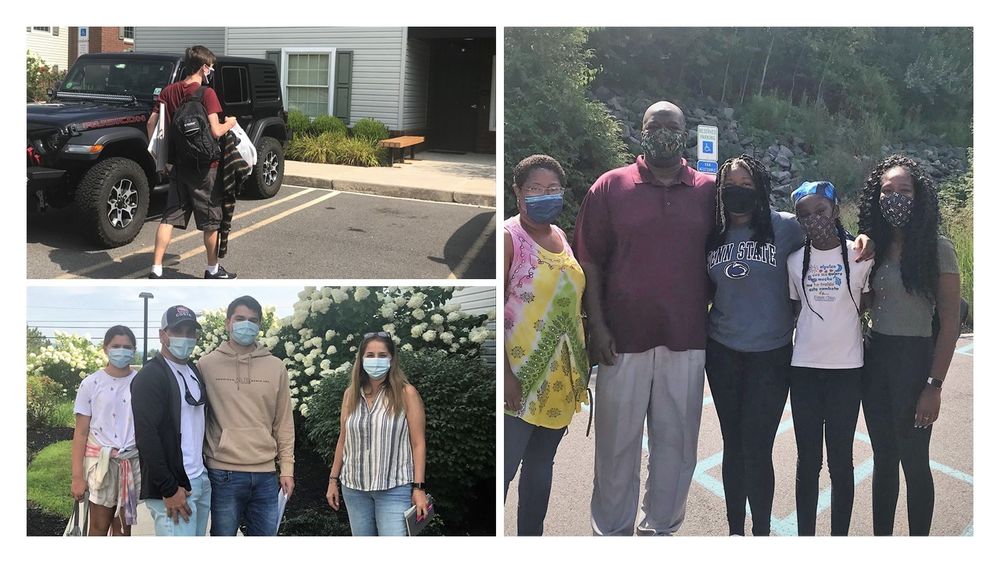 DUNMORE, Pa. – As Penn State Scranton gears up for a fall semester unlike any other in its 52-year history, student residents of The Commons at University Drive made their return to the apartment complex this weekend.
On Saturday, Aug. 15, about 100 campus students moved into The Commons under enhanced safety protocols instituted on account of the ongoing COVID-19 pandemic. The tenants are a mix of "fresh faces and returning students," according to Kate Daye Ruane, CEO of The Commons, which is privately owned yet caters to campus students.
Due to the pandemic, move-in was much different than previous years, with The Commons enacting a number of preventative measures during the check-in period based on public health guidelines.
The entire event was held outside, and residents and visitors were required to wear masks at all times and get temperature checks before checking in. In addition, lines for multiple tables, rather than the usual single one, were set up with taped-off markings every six feet to ensure proper social distancing.
Residents were also asked to bring only one family member, and The Commons required all documents and payments to be sent electronically ahead of move-in day to diminish contact with others. At the move-in, residents only had to produce one signature, on pens they got to keep.
Meanwhile, "all common areas and apartments have been sanitized with extra precaution by a professional company," Daye Ruane said.
Despite the safety measures, The Commons still managed to come up with some fun activities to put a festive spin on the move-in, including a "chalk out" where each student got their own parking space to decorate for the chance at a prize.
"This is a socially distanced activity that still allows everyone to be together and spend some time," Daye Ruane said.
From there, the campus' Student Programs and Services staff will host a variety of events for Commons residents during the week leading up to the start of the semester. Programming will be offered both virtually and in-person, according to Assistant Director of Student Services and Engagement Matt Nied.
"We are providing opportunities in all delivery forms, and have something happening Monday to Friday next week. We are really utilizing outdoor spaces to maximize our ability to include as many students as we can," Nied said. "We're excited but cautious of how and what we are doing. We are really taking extra precautions to keep ourselves and everyone safe as we engage our students in their out-of-classroom activities."
As always, Nied and other campus staff have been "wonderful" to collaborate with throughout the move-in process, Daye Ruane said.
The feeling is mutual.
"Kate and her team are wonderful to work with," Nied said.
Changes aside, Daye Ruane said The Commons is looking forward to another great year with its student tenants.
"We seriously couldn't be happier!" she said. "It was such a hard spring and summer on all of us. As a small business, we really care about the community and rely on these students to return."