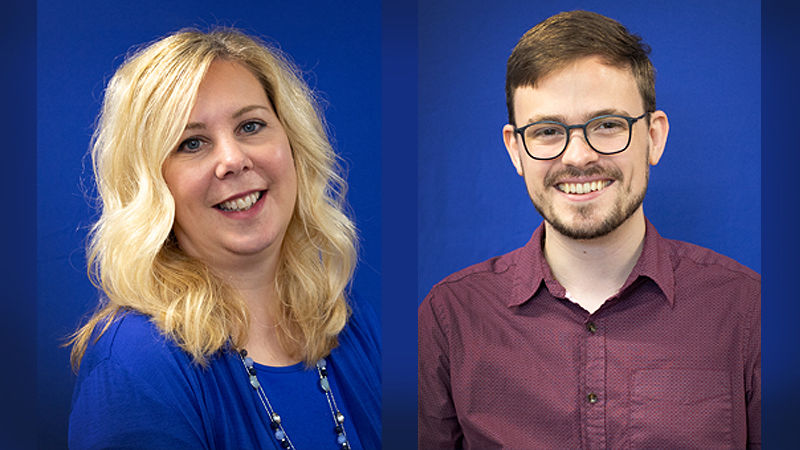 DUNMORE, Pa. ⁠— Penn State Scranton recently welcomed two new staff members to the campus community.
Meghan Cruciani has been hired as the new associate director of academic advising, and Cameron Nielsen will serve a one-year appointment as the reference and instruction librarian while Kristin Green is on leave for the 2019-20 school year.
Both Cruciani and Nielsen bring a wealth of diverse experiences and perspectives to their roles.
'This is like coming home'
A campus alumna, Cruciani attended Penn State Scranton before receiving her bachelor's degree in psychology from University Park. She spent 22 years at Marywood University, where she worked in various advising and administrative positions, most recently as assistant vice president for student success.
"For me, this is like coming home, but in a different way," said Cruciani. "It's like the best of both worlds here — it's a small school atmosphere, but with the huge resources of Penn State."
Cruciani started working in the Marywood University registrar's office while pursuing her master's degree in school counseling. From there, she was steadily promoted to several other positions, including coordinator of graduate admissions, coordinator of undergraduate admissions, associate director of retention and advising, and director of academic success.
As assistant vice president for student success, she oversaw eight different Marywood University offices.
"I really like higher ed," she said. "I love the students and getting to know them and helping them on their journey. College is a great time in a young person's life, but it's also a tough time. It's so great to watch them as they mature and evolve."
In her new role at Penn State Scranton, Cruciani will get back to the advising work she loves.
In addition to overseeing the daily operations and staff of the advising center, she will work closely with faculty members to enhance their advising skills, including facilitating training for the campus' New Student Orientation sessions.
She also will commit significant time to working one-on-one with students. In that realm, she said her skills as a licensed professional counselor will no doubt prove beneficial.
"I love advising, so for me it's like coming back to my roots. My work with the students is what guides me," Cruciani said. "And, even in an advising role, I use my counseling skills every day. Because, when it comes to advising a student, there's always a number of factors that come into play. Life happens, and it's those things outside the school that affect a student's academics."
"With this job, empathy, rapport-building and an overall knowledge of the programs are all essential, but so is being able to talk with a student about their fit for a particular program," she continued. "Sometimes, you need to adjust. And sometimes, those roadblocks turn into the best possible thing for the student. As advisers, we're there to support and navigate them through this time."
Though she's only been on campus for a few weeks, Cruciani said she is already impressed with the campus' inclusive, egalitarian spirit. So far, she said, it's living up to Penn State Scranton Chancellor Marwan Wafa's "welcoming campus" philosophy.
"You can tell that everyone here is very student focused," she said. "And it seems like everyone is happily going about their jobs and working toward the same goal, which is to benefit the institution and the students."
Cruciani and her husband, Gary, live in Roaring Brook Township and have two children — Ben, a student at the University Park campus, and Kenna, a student at North Pocono High School.
Though Cruciani jokes that she has little time for hobbies, she and her husband are longtime Penn State football season ticket holders. Meanwhile, she's currently pursuing her doctorate in human development at Marywood University.
'A great place to work'
Nielsen grew up in Portland, Oregon, and northern Idaho, where a love of reading and libraries was instilled in him from a young age.
"My mom was a big reader and would take us to the library a lot," he said. "I didn't watch a lot of TV, and we didn't have cable because we lived out in the middle of nowhere, so I really got into reading. As a result, the local library became a big part of my life. And it was an interesting place — they still used the old fashioned card catalog there."
Nielsen's reading interests ranged from sci-fi and fantasy to history, which he majored in as an undergraduate at Brigham Young University in Provo, Utah. The coursework proved helpful for his future career, given "historians live and die by the library," he said.
Interested in becoming a college professor, he then enrolled in the University of Illinois' master's program in religion. There, his role as a graduate assistant allowed him to gain valuable teaching experience.
Eventually, however, Nielsen decided against the idea of pursuing a career as a professor. Looking for an alternative, he realized library science would be a great way to marry his passions for instruction and research.
With that, he spent an additional two years at the University of Illinois obtaining a second master's degree in library and information science, this time working as a graduate assistant in the library's digital preservation department.
"It was a great experience, considering the graduate assistants run a lot of the library there because it's so huge. There, the student worker is often the first point of contact," he said. "It was a learning curve, but a lot of fun to learn."
Nielsen received his degree this past spring. Walking down the aisle at commencement that day, he "felt very unemployed," he said with a laugh.
The very next day, however, he received a call from Penn State Scranton Head Librarian Jennie Knies.
Without question, he's thrilled with the opportunity.
"Penn State has a reputation as being a great place to work. So, there was no question in my mind whether to accept," Nielsen said. "I love the small campus feeling. It feels like a small college, but it has the connections to Big Ten resources. It's a great situation for me because I get to benefit the campus community and build my resume."
Already, his calendar is filling up for the fall, with faculty members scheduling library classroom sessions for their students. He'll be offering presentations on research methods and navigating Penn State's library databases. Essentially, he said, he'll be showing students how to find and "intelligently assess" information.
"And as the reference librarian, my door is always open for students who need help with their research projects. And I know it can be hard to ask for help sometimes, because I've been there," he said. "I'm passionate about research, and I want to help people with their research projects. Think of me as a sort of consultant on research — that would be my goal as a librarian."
Meanwhile, Nielsen also will be working on expanding the library's collection of books — both reference and recreational. For instance, he said, the library is currently in the process of beefing up its comics section.
"We want to hear the students' thoughts on what they want to read. We're open to suggestions," he said.
Nielsen resides in Dickson City with his girlfriend, Jazmin Butzin, a fellow Illinois alum who is now applying to medical schools. Outside of work, his hobbies include biking, art, cooking and trying new restaurants.