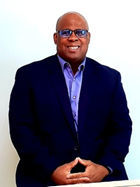 Chairperson of the chartering committee for a Lackawanna County Chapter of the NAACP,
Advisory Board
Biography

Career: Ty is currently Chairperson of the chartering committee for a Lackawanna County chapter of the NAACP and a board member at the NEPA Youth Shelter. Ty is committed to deploying problem solving strategies with a focus on transparency and with the experience of decisive leadership.

Military Career: Ty retired after twenty-five years of active duty in the US Military, he is a decorated veteran of the US Navy and US Army and has distinguished himself through his personal and professional accomplishments. He began his military career in 1991 in the Navy with Special Operations and was deployed over the course of his 25 year military career 8 times to Somalia, Bosnia, Kuwait, Bahrain, Saudi Arabia, Iraq, Afghanistan and several other locations throughout the middle east. Ty was also employed as a member of the Los Angeles Police Department before returning to US Military active duty after the terrorist attacks on 9/11.

Community Involvement: Tyrone (Ty) Holmes, a 12 year resident of Scranton, is known in Scranton's activist community as an avid volunteer and advocate for diversity and equitable inclusion. He has been an active member of the advocacy and volunteer community for the most of his life belonging to various veteran organizations, Meals on Wheels, Adopt a School, Boys and Girls' Club, after school reading programs, and mentoring programs for children.